While Prime Minister Nuri al-Maliki made some progress in reaching out to marginalized Sunnis and groups outside the political process, it was apparent that a wide gulf still exists between the current political establishment and those shunning the political process.
Al-Maliki Reaches Out To Sunnis
Speaking at the conference on December 16, al-Maliki reached across the sectarian divide to call on Iraqis to work for the unity and integrity of Iraq. He also promised to review the de-Ba'athification process that cost many Sunni Arabs the jobs they had under the former regime, as well as moving to rid ministries of sectarian affiliations -- two key grievances of many insurgent groups.
"We call for a serious review of the current political formations and restructuring them on national bases. We also call for the formation of an expanded national framework or front that will comprise all the political components, that will be above chauvinist affiliations and loyalties in a manner that will allow capable and qualified figures to run the country far from the sectarian, national, and partisan power-sharing system," he said.
In addition, he called on officers from former President Saddam Hussein's disbanded military to join Iraq's new army. He also indicated that those who do not wish to reenlist would be given their pensions, a longstanding demand by Sunni leaders. However, he made it clear that his offer was directed toward Ba'ath Party members who did not have "blood on their hands," a move to appease many in the Shi'ite community who still regard the Ba'ath Party with suspicion.
"We completely differentiate between the Ba'athists whose hands are not stained with the blood of our people, and those who committed the ugliest of crimes against Iraqis and continue to shed the blood of the innocents," al-Maliki said.
However, it was unclear what criteria the government would employ to determine which Ba'athists had an acceptable past and which ones don't.
Notable Absences
Even before the conference began, there were questions as to whether representatives of extremist Shi'ite and Sunni factions would attend. In the end, it was apparent that the groups that are responsible for most of the sectarian violence were either not invited or refused to attend.
The Muslim Scholars Association, an influential Sunni organization with alleged links to insurgent groups, said it was not invited to the conference, but refused to attend even if it were, Al-Arabiyah satellite television reported on December 16. Furthermore, association spokesman Sheikh Muhammad Bashar al-Faydi said that the group was boycotting the conference to protest the government
issuing an arrest warrant
for their leader, Sheikh Harith al-Dari.
"We have not been invited to this conference, contrary to what government officials have said. They claimed that they have sent an invitation to the Muslim Scholars Association, which is not true," al-Faydi said.
On the other hand, the political bloc of radical Shi'ite cleric Muqtada al-Sadr refused an invitation, citing the presence of Ba'athists and Hussein loyalists. "Our position is very clear and we cannot negotiate with those whom we put to trial before courts, since they assisted the occupation forces to enter Iraq and handed Iraq over to them on a golden plate," al-Sadr deputy Salih al-Uqayli said, Al-Sharqiyah television reported on December 16.
Al-Sadr's militia, the Imam Al-Mahdi Army, has been widely accused by Sunni leaders of carrying out sectarian attacks against Sunnis. His absence perhaps underscored his unwillingness to reign in his militia, as well as sending a message to al-Maliki not to sideline him. In fact, there was no mention of al-Sadr in any of major speeches during the conference.
It was unclear whether the Ba'athists, who are thought to form the backbone of the insurgency, had actually attended the conference. Sources at the conference said that members of the former Ba'ath Party had taken part, but a statement issued by the party itself said it did not authorize any of its members to attend the conference, "Al-Zaman" reported on December 17.
More Of The Same?
It is difficult to say whether the conference will lead to any concrete changes. Several Iraqi leaders have praised the outcome of the conference, stressing that the involvement of the participants underscored a move toward national unity. Two earlier reconciliation conferences were postponed, and given the spiraling violence and increasing instability, the mere fact that the conference was held at all was a feat.
Prime Minister al-Maliki's call to former military personnel to return to duty indicated a genuine attempt to reach out to the disaffected Sunnis. The Ba'athists promptly rejected that appeal, describing the new Iraqi Army as "an army of collaborators with the occupation."
However, Iraqis have watched displays of national unity before, only to see them quickly disintegrate into chaos. On November 21, 2005, Iraqi leaders gathered during an Arab League-sponsored National Reconciliation Conference in Cairo and vowed to bring Sunnis into the political process. Three months later, on February 22, 2006, the Al-Askari (Golden) Mosque in Samarra was bombed, setting off a wave of sectarian violence.
Indeed, Muslim Scholars Association spokesman al-Faydi referred to the Cairo meeting when he indicated the group would boycott the latest conference. "We did not see any credibility on the part of the government in all meetings prior to this conference. The government always takes advantage of these conferences to polish its image without showing seriousness to put an end to the predicament the Iraqis are going through," Al-Arabiyah satellite television on December 16 quoted him as saying.
The conference itself, lacked any fresh ideas to end the political impasse or to help quell the violence. Moreover, while Iraqi leaders reiterated their broad calls for unity and for sectarian attacks to cease, they were unable to provide any details as to how this would come about. There were no new proposals on how to reign in the Shi'ite militias or Sunni insurgents.
Several sources also indicated that there was a great deal of discord among participants at the conference, "Al Zaman" reported on December 18. In fact, the government's decision to allow only state-run media to cover the conference was perhaps indicative of the amount of friction authorities anticipated, but did not want the public to see.
Indeed, Iraqi National List member Iyad Jamaladin told "The New York Times" on December 17 that before there can be any reconciliation with those outside the political process, there first must be broad agreement by those within the political process.
Sectarian Iraq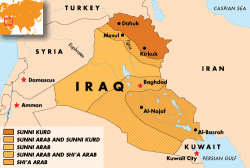 Click to enlarge the image.
SUNNI, SHI'A: Iraq is riven along sectarian lines, faults that frequently produce violent clashes and are a constant source of tension. Sectarian concerns drive much of Iraqi politics and are the main threat to the country's fragile security environment.


THE COMPLETE PICTURE: Click on the image to view RFE/RL's complete coverage of events in Iraq and that country's ongoing transition.