Al-Sadr's office and Iraqi security officials said Sheikh Abd al-Hadi al-Darraji, al-Sadr's media director in Baghdad, was captured during a raid on a mosque in the eastern neighborhood of Baladiyat.
The U.S. military said special Iraqi Army forces, operating with coalition advisers, captured a high-level, illegal armed group leader in Baladiyat, but it did not identify the detainee.
Meanwhile, the U.S. military said a roadside bomb killed one U.S. soldier and wounded three others in an attack against a patrol in Baghdad on January 18. The patrol was escorting a convoy in a northwestern section of the capital.
U.S. President George W. Bush, in a major Iraq policy speech on January 10, insisted that the Iraqi government do more to crack down on militias on both sides of the Shi'ite-Sunni sectarian divide.
Meanwhile, U.S. Defense Secretary Robert Gates arrived today in the British-controlled southern Iraqi city of Al-Basrah on an unannounced visit.
He is scheduled to meet with U.S. and British commanders, including the outgoing U.S. military commander in Iraq, General George Casey.
It is Gates' second visit to Iraq since becoming defense secretary in December.
(AFP, Reuters, AP)
Sectarian Iraq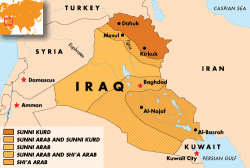 Click to enlarge the image.
SUNNI, SHI'A: Iraq is riven along sectarian lines, faults that frequently produce violent clashes and are a constant source of tension. Sectarian concerns drive much of Iraqi politics and are the main threat to the country's fragile security environment.


THE COMPLETE PICTURE: Click on the image to view RFE/RL's complete coverage of events in Iraq and that country's ongoing transition.