Major Iraqi political parties have now engaged in behind-the-scenes talks to form a new political alliance to help break the impasse. The Iraqi daily "Al-Azzam" reported on December 12 that the main Shi'ite party in Iraq, the Supreme Council for the Islamic Revolution in Iraq (SCIRI), has been in discussions with the Kurdish Alliance and the Sunni-led Iraqi Islamic Party to form a new political coalition. The aim would be to exclude al-Sadr's bloc, whose support the current government relies on to survive.
Although politicians involved in the preliminary discussions denied that they were seeking to sideline al-Sadr's bloc, comments by Deputy Prime Minister Barham Salih of the Kurdish Alliance on December 12 clearly suggest that the main cause of the current political crisis are militant politicians like al-Sadr.
"We call for resolving the militia issue, which is certainly the key to defusing the crisis."
"A number of key political parties, across the sectarian-ethnic divide, recognize the gravity of the situation and have become increasingly aware that their fate, and that of the country, cannot be held hostage by the whims of the extreme fringe within their communities," "The New York Times" quoted Salih as saying.
Breaking The Impasse
A November 8 memo written by U.S. national security adviser Stephen Hadley and leaked to "The New York Times" on November 29 listed several recommendations to strengthen Prime Minister al-Maliki's beleaguered government. Among them were for al-Maliki to "bring his political strategy with Muqtada al-Sadr to a closure" and for the United States to "actively support al-Maliki in helping him develop an alternative political base."
The new political alliance of Shi'ite, Kurdish, and Sunni groups is essentially what Hadley's memo was referring to, and could be an effective way of breaking Iraq's political logjam. "The aim of these agreements is to improve civil peace and enhance national unity and strengthen the political process," Jalal al-Din al-Saghir, a senior SCIRI official, was quoted by AFP on December 11 as saying.
One of the main criticisms of al-Maliki's government by both Sunnis and U.S. officials is his inability or unwillingness to reign in al-Sadr's militia, the Imam Al-Mahdi Army, which has been widely accused of carrying out sectarian attacks.
With 34 seats in the Iraqi parliament, al-Sadr is an integral component of al-Maliki's governing coalition and the prime minister is politically dependent on him. Consequently, al-Sadr's removal from the governing coalition would free al-Maliki's hands and give him the political breathing room to press al-Sadr to reign in his militia.
"We want a patriotic front that can bypass sectarianism and should be open to all who want to join. We call for resolving the militia issue, which is certainly the key to defusing the crisis," AFP quoted Iraqi Islamic Party member Omar Abd al-Sattar Mahmud on December 11 as saying.
Moreover, without al-Sadr's obstructionist tendencies, a stable and relatively unified political alliance would be able to undertake some of the more pressing issues, such as drafting a comprehensive oil law and reviewing the Iraqi Constitution, which is a main Sunni demand.
Potential Risks Of New Alliance
The formation of a new political alliance across sectarian lines carries with it several risks, most notably the threat of increased violence. Al-Sadr's power comes from his ability to mobilize his militia. The Imam Al-Mahdi Army was behind two uprisings against U.S. forces in 2004, and al-Sadr could instigate another confrontation with U.S. forces if feels he is being politically marginalized.
Also, ostracizing al-Sadr could radicalize him even further, and free him to unleash his militia on the Sunni Arabs, which in turn could lead to reprisal attacks and a steep rise in sectarian violence.
If SCIRI leader Abd al-Aziz al-Hakim and al-Maliki move to exclude al-Sadr from the Shi'ite United Iraqi Alliance, it could also force Iraq's top Shi'ite religious authority, Grand Ayatollah Ali al-Sistani, to intervene and stress the importance of Shi'ite unity above all else.
For Vice President Tariq al-Hashimi, the leader of the Iraqi Islamic Party, a coalition with SCIRI and the Kurdish Alliance could alienate the other members of the main Sunni bloc, the Iraqi Accordance Front. The Iraqi People's Conference and the National Dialogue Council, the other two main components of the front, have so far not been involved in the talks.
Finally, the new alliance could be seen by the more radical Sunni elements in the insurgency as a vehicle for pushing through Shi'ite and Kurdish demands concerning federalism, a concept that many Sunnis fear will enable the breakup of Iraq.
Al-Maliki's Prospects Unclear
It is difficult to say whether a new political alliance bodes well for al-Maliki or not. The BBC reported on December 12 that al-Maliki's Al-Da'wah Party has not decided whether or not to join.
If major parties are moving to isolate al-Sadr, this could prove advantageous for al-Maliki, who would no longer have to acquiesce to the radical cleric's demands. Also, Iraqi officials involved in talks concerning the new alliance have denied they were seeking to oust al-Maliki, Reuters reported on December 12.
However, recent visits by SCIRI leader al-Hakim and Iraqi Vice President al-Hashimi to the White House have fueled speculation that al-Maliki may be on the way out. Al-Hashimi has been a vocal critic of the prime minister's handling of security in Iraq, particularly his unwillingness to disband the Shi'ite militias. It may be that al-Maliki's position has become so untenable that he will be ousted like his predecessor, Ibrahim al-Ja'fari.
On The Verge Of Civil War
On The Verge Of Civil War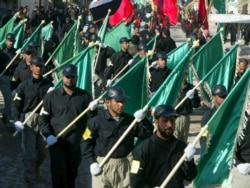 The Imam Al-Mahdi Army on parade (epa)
HAS THE CONFLICT IN IRAQ BECOME A CIVIL WAR? Many observers have concluded that the tit-for-tat sectarian violence that emerged after the February 2006 bombing of a mosque in Samarra has become a full-blown civil war.... (more)


RELATED ARTICLES
U.S. Media Starts Using 'Civil War' Label
Iraqi Prime Minister Under Fire From All Sides
U.S. Expert Discusses Prospects For Stabilization
President Says Iraq Needs Iran's Help
Saudi Arabia To Seal Off Border With Security Fence

THE COMPLETE PICTURE:
Click on the image to view RFE/RL's complete coverage of events in Iraq and that country's ongoing transition.