Despite the announcement of the two initiatives, several senior U.S. officials continue to question the Iraqi government's resolve in confronting some of the worst violators -- militiamen and security personnel tied to rogue death squads -- saying Prime Minister Nuri al-Maliki's government is either unwilling or incapable of establishing order.
Western Tribes Take Up Fight
The Al-Anbar initiative is the most promising development to come out of the volatile western region in months. Sunni Arab tribesmen in the governorate first vowed to
crack down on Al-Qaeda's operations
there in January, after two suicide bombers attacked a police recruitment drive supported by tribal leaders in Al-Ramadi, killing 80 and wounding 60 others.
The attack came at a time when local support for Al-Qaeda was waning, as innocent civilians were increasingly victimized by indiscriminate attacks. Despite a commitment at that time by tribal leaders to drive out Islamic insurgents, Al-Qaeda in Iraq retained its hold over the area.
By late May, a local security force established by tribesmen under an agreement with the U.S. military had all but ceased operating, and nearly a dozen tribal leaders were dead -- assassinated in revenge attacks by Al-Qaeda insurgents operating under the banner of the Mujahedin Shura Council.
At the time, local tribal leaders said they were afraid to be seen associating with U.S. forces,
lest they be targeted by insurgents
. They continued to be targeted by Al-Qaeda, however.
Meanwhile, Al-Qaeda leader Abu Mus'ab al-Zarqawi was killed, and Prime Minister al-Maliki
launched his national reconciliation initiative
, which seeks to bring resistance groups and others in the opposition into a national dialogue with the government. These events appear to have prompted Sunni tribal leaders in Al-Anbar to restart their fight with Al-Qaeda.
According to Iraqi media reports, tribal leaders informed al-Maliki at a September 27 meeting of their intention to establish a "salvation council" to confront terrorism in the governorate and an agreement was reached to establish a tribal security force to maintain security on the main roads that traverse the governorate to Jordan and Syria.
Al-Furat television reported on September 27 that the tribal security force would be 11,000-strong, comprising members of several tribes. The security force would be divided into smaller units, with each unit taking responsibility for designated areas of the highways. The government will compensate the security force for maintaining order.
Al-Fayha television also reported the formation of an 11,000-strong force, which the satellite news channel said would be comprised of members of 11 tribes, with each tribe committing 1,000 men to the force. The Communist Party's newspaper, "Tariq al-Sha'b," on September 20 quoted Sheikh Faysal al-Ku'ud as saying that 15 of the governorate's "original 18 tribes" have committed to the initiative.
In addition, al-Maliki pledged Iraqi security forces to help establish security in Al-Anbar. At the same time, local clergy would encourage able young men to join the police and military, while pushing local residents to return to work. The government also committed to undertaking projects to restore the governorate's infrastructure.
Security Operation Launched In South
Meanwhile, the British military announced the launch of Operation Sinbad on September 27. Some 2,300 Iraqi and 1,000 British soldiers will take part in the operation, which is aimed at rounding up insurgents and militias operating in Al-Basrah. The operation is supported by another 2,000 British soldiers stationed in the area, U.K. military spokesman Major Charlie Burbridge told AP.
Burbridge said the operation is akin to Operation Together Forward, launched in Baghdad in June. Operation Sinbad is expected to last several months, he said. "We're gradually inching our way forward," he noted, adding that the end goal is to secure the city so that Iraqi forces can take over security responsibility.
A key focus of the operation will be police corruption, with a special team going station by station to weed out corrupt officers. It is believed that much of the insecurity in Al-Basrah is due to militiamen operating from within the local police force.
A source familiar with the situation in the city
told RFE/RL in May
that every political party operating in Al-Basrah -- from the governor's Al-Fadilah Party, to the Supreme Council for the Islamic Revolution in Iraq (SCIRI), the Islamic Al-Da'wah Party, Hizballah, and those civilians loyal to Shi'ite cleric Muqtada al-Sadr -- have an active militia. The police force is dominated by members loyal to their parties or militias, with each competing for control.
The security situation in Al-Basrah Governorate became so dire in May that both the Presidency Council and Prime Minister al-Maliki personally intervened. In addition to political infighting, instability was spurred by competition between tribes, criminal gang activities, and terrorists, al-Maliki said at the time. He held British forces responsible for much of the deterioration.
Indeed, British forces, which have been responsible for southern Iraq's security since 2003, have taken a much different approach from U.S. forces. While their hands-off approach may have contributed to less combative relations with the local population than their U.S. counterparts faced in the north, it has also contributed to the dire security situation seen in Al-Basrah today.
Iraqis in Al-Basrah Governorate have complained on several occasions over the past three years that British forces stood by while militiamen and rogue police officers attacked locals in an effort to impose their "laws" on the population.
While the initiative is praiseworthy, it is unclear whether it can bring any real results after three years of deterioration. For one, there is an absence of strong, independent actors to replace the powerful parties and militias that currently hold sway over local politics. The fact that many of the militias are backed by the neighboring Iranian regime makes the task all the more difficult.
U.S. Officials Weigh In On Prime Minister
Unidentified senior U.S. military officials told journalists this week in Baghdad that they have begun to question Prime Minister al-Maliki's resolve to rein in militias, the most powerful of which are tied to parties belonging to his ruling Shi'ite coalition, the United Iraqi Alliance.
The two most powerful militias, Shi'ite cleric al-Sadr's Imam Al-Mahdi Army and the SCIRI's Badr Brigades, are behind the death squads targeting Sunnis, the officials said.
One military official complained that al-Maliki shot down a plan for U.S. and Iraqi troops to launch an operation in Baghdad's Al-Sadr City on the eve of the holy month of Ramadan, the "Los Angeles Times" reported on September 28. The daily further reported that the 8,000 U.S. troops recently moved to Baghdad have largely been prevented by the government from confronting the militias.
Officials said that the Badr Brigades were responsible for the majority of Shi'ite death-squad killings last year, while the Al-Mahdi Army moved to the forefront of death-squad attacks following the February 22 bombing of the Golden Mosque in Samarra. An official said that the Interior Ministry, largely comprised on Shi'a tied to militias, was complicit in many of the killings.
More troubling is the assessment by one U.S. military official that al-Sadr has lost control of some militiamen, who have ignored his commands to stand down on more than one occasion. The same official said the militia is now heavily armed, possessing Iranian-manufactured explosives and shoulder-fired rockets capable of taking down aircraft, the "Los Angeles Times" reported.
U.S. military officials have also been issued "no touch" lists with the names of politicians and other high-ranking officials who should not be arrested, and the Iraqi government has designated certain areas of Baghdad "off-limits" to U.S. troops without specific permission, an official said.
Indeed, al-Maliki is walking a tightrope. His national unity government is weak and fractured on several levels. Sunni Arab parties continue to question the government's pledge to follow through on agreements to revisit issues of importance to Sunnis, such as the constitution. The situation is much the same inside al-Maliki's ruling coalition, with parties in the United Iraqi Alliance split over a host of issues. The prime minister's desire to deal with the hard issues, such as the elimination of militias, is overshadowed by the knowledge that he is not in a position to take unilateral action lest he lose key political allies.
Iraq And Iran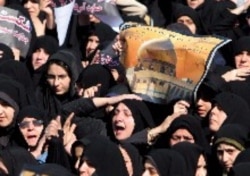 Iranian Shi'a protesting the Golden Mosque Bombing in Iraq on February 24


WHAT IS GOING ON? On March 8, RFE/RL's Washington office hosted a roundtable discussion on relations between Iraq and Iran. Although most analysts agree that Iran has been actively involved in Iraq since the U.S.-led military operation to oust former Iraqi President Saddam Hussein, they continue to debate the nature, extent, and intent of that involvement.
The RFE/RL briefing featured WAYNE WHITE, former deputy director of the U.S. State Department Bureau of Intelligence and Research's Office of Analysis for the Near East and South Asia, and A. WILLIAM SAMII, RFE/RL's regional analyst for Iran and editor of the "RFE/RL Iran Report."
LISTEN
Listen to the complete RFE/RL briefing (about 75 minutes):

Real Audio
Windows Media
RELATED ARTICLES
Iran/Iraq: Bilateral Ties Improving Despite U.S. Worries
Renewed Speculation About Tehran And Instability In Iraq
Iran/Iraq: Neighbors Mending Ties, But Outstanding Issues Remain
ARCHIVE
RFE/RL's
coverage of Iran
. RFE/RL's
coverage of Iraq
.