Iraq To Retrain Police To Weed Out Militias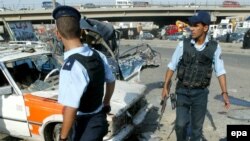 Iraqi police officers at the site of a bomb attack in Baghdad (file photo) (epa) September 18, 2006 -- Iraq's entire police force will reportedly undergo retraining in a bid to purge the force of members of armed militia.
Police spokesman Brigadier Abdul Kareem Khalaf tells Reuters that all police units will be gradually pulled from the field and put through a month-long course under the supervision of U.S.-led forces, starting in October.
U.S. commanders are quoted as saying some units will undergo vetting, psychological profiling, and lie detector tests to identify members of sectarian death squads that have infiltrated the Iraqi police.
Meanwhile, police say a suicide car bomb at a recruitment center in the Sunni insurgent stronghold of Al-Ramadi killed 13 people and wounded 10 others on September 18. The city is the capital of the western province of Al-Anbar.
(Reuters)


SUBSCRIBE For weekly news and analysis on Iraq by e-mail,
subscribe to "RFE/RL Iraq Report."