Pentagon Says Conditions For Iraq Civil War Exist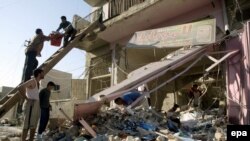 The scene of an August 31 bombing in Baghdad (epa) September 1, 2006 -- A report issued by the U.S. Defense Department today says conditions that could lead to a civil war exist in Iraq, but that the current situation in the country is not a civil war.
The report says the "core conflict" in Iraq has changed to a battle between Sunni and Shi'ite Muslims that is overshadowing the insurgency.
The report says the nature of violence in Iraq is defined by the rising sectarian violence between the Sunnis, who controlled Iraq under Saddam Hussein, and the majority Shi'a, who are ascending in power after decades of oppression.
A recent surge in violence in Iraq has left some 200 people dead in the past week, including 17 U.S. soldiers.
The Pentagon report says the current security environment is at its most complex state since the U.S.-led invasion in March 2003.
Nevertheless, the report concludes that "movement toward civil war can be prevented."
(Reuters)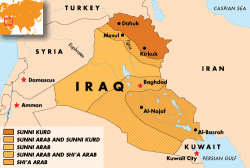 Click to enlarge the image.
SUNNI, SHI'A: Iraq is riven along sectarian lines, faults that frequently produce violent clashes and are a constant source of tension. Sectarian concerns drive much of Iraqi politics and are the main threat to the country's fragile security environment.


THE COMPLETE PICTURE: Click on the image to view RFE/RL's complete coverage of events in Iraq and that country's ongoing transition.