Iraq Denounces Mubarak Comments On Civil War, Iran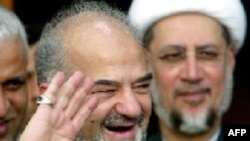 Acting Iraqi Prime Minister Ibrahim al-Ja'fari (file photo) (AFP) April 9, 2006 -- The Iraqi government today criticized Egyptian President Hosni Mubarak for his comments that Iraq is in the throes of civil war and that its majority Shi'ite population is under the influence of Iran.
Incumbent Prime Minister Ibrahim al-Ja'fari, himself a Shi'a, said Mubarak's remarks have upset the Iraqi people, who all come from different religious and ethnic backgrounds. Al-Ja'fari said Mubarak's language "astonished and discontented" the Iraqi government.
Mubarak warned that Iraq is in the middle of a civil war that threatens the entire Middle East.
The Egyptian leader's comments were aired on April 8 on the satellite news channel Al-Arabiya.
(compiled from agency reports)


SUBSCRIBE For weekly news and analysis on Iraq by e-mail,
subscribe to "RFE/RL Iraq Report."