U.S. Commander Sees 'Great Progress' In Baghdad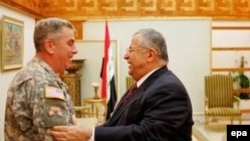 Abizaid meeting with Iraqi President Jalal Talabani today in Baghdad (epa) August 24, 2006 -- The top U.S. commander in the Middle East, General John Abizaid, said today he believes Iraq is "far" from civil war, but that there is a danger of one developing.
He also said there has been "great progress" in increasing security in Baghdad.
An additional 12,000 U.S. and Iraqi forces are patrolling the capital's streets. Meanwhile, five separate bombings killed four people and left 24 wounded today in the city.
(Reuters)