Gunmen Ransack Talabani Party Office In Iraq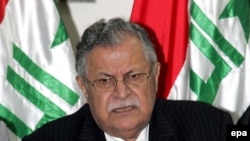 Iraqi President Jalal Talabani (file photo) (epa) August 11, 2006 -- Gunmen have smashed and burned the offices of the Iraqi president's Kurdish party in the city of Al-Karbala, south of Baghdad.
The assailants were reportedly angry about criticism in the Patriotic Union of Kurdistan's official newspaper of a Shi'ite cleric.
The article stated that the cleric, Muhammad al-Yakubi, was trying to ignite a war between Shi'a and Kurds.


SUBSCRIBE For weekly news and analysis on Iraq by e-mail,
subscribe to "RFE/RL Iraq Report."