PRAGUE, May 12, 2006 (RFE/RL)--- Iraqi Kurds have become increasingly vocal in their demands in recent months for free speech and press rights, greater administrative transparency, and an end to corruption. They have also called on the KDP, led by Mas'ud Barzani, and the PUK, led by Iraqi President Jalal Talabani, to allow for greater political pluralism.
Facing Some Daunting Tasks
The new government's response to such issues will demonstrate whether the Kurdish autonomous region is, as its leaders bill it, an model of democracy and stability for the rest of Iraq to emulate or, as its detractors claim, a region whose two main parties have entrenched their hold on power.
One of the most urgent issues facing the unified government is the demand for free speech and press, particularly following a crackdown by both parties on demonstrators, intellectuals, and journalists over the past seven months. Kurdish intellectual Kamal Sayyid Qadir, who holds Austrian citizenship, was jailed by the KDP last year for articles he wrote criticizing Kurdish Region President Mas'ud Barzani's administration. He was sentenced in December to 30 years in prison for "defamation of the Kurdish leadership."
"Jamawar" reported that the names of the ministers were not announced prior to the legislature's vote of confidence. Parliamentarian Tavgah Muhammad Ali claimed that only a "few members" of the parliament had seen the list of ministers. Moreover, the ministers' qualifications were not made public, Ali claimed.
That sentence was thrown out and Qadir was sentenced at a new trial in March to 18 months in prison. One week later, regional Prime Minister Nechirvan Barzani pardoned Qadir. It is unlikely however, that Qadir would have received a retrial, let alone a pardon, had there not been intense publicity surrounding his case. For their part, Kurdish officials claimed that they were required to arrest Qadir according to an outdated Iraqi law, which they vowed to amend.
The Halabjah Case
Qadir's case is just one of a number of cases brought against writers and journalists this year. In addition, several journalists said they were beaten, arrested, and had their equipment confiscated on March 16 following a government crackdown on demonstrators who violently interrupted a ceremony marking the 18th anniversary of the Hussein regime's chemical attack on the Kurdish town of Halabjah.
Journalists caught up in the melee reported being beaten by both security forces and demonstrators. Those working for independent Kurdish media outlets said security forces destroyed or confiscated their cameras and video recorders. The journalists claimed no similar action was taken against party-owned media, implying that the PUK and KDP would prevent their own press from broadcasting footage of the incident.
Other journalists said their equipment and film were confiscated at checkpoints outside the town.
A day after the Halabjah incident, PUK security forces arrested Hawez Hawezi, a high-school teacher and journalist working for "Hawlati," on charges that his writings had criticized the two parties. Citing corruption and cronyism within both administrations, Hawezi called on officials to step down in a March 15 article in "Hawlati."
Defamation Problems
The New York-based Committee to Protect Journalists said in a March 22 press release that Hawezi was released on bail on March 19 after appearing before an investigating judge.
"The judge told the journalist he faced unspecified defamation charges," the organization reported.
Hawezi was rearrested in late April after publicly complaining of his treatment while in detention, Reuters reported on May 2.
Asos Hardi, the former editor in chief of "Hawlati," and the weekly's current editor in chief, Twana Osman, were given six-month suspended sentences and fined 75,000 dinars ($50) on May 2 for defaming then-PUK Prime Minister Omar Fatah. The two were charged after the newspaper reported that Fatah ordered two telephone-company workers fired for cutting his home phone line. The court determined that the regional communications minister, not the governor, had ordered the two workers fired.
"Hawlati" Managing Editor Peshwaz Faizulla told the Committee to Protect Journalists that both editors were forced to sign a statement saying that they would not commit defamation again, the organization reported on May 2.
According to some reports, a bill is under discussion by the Kurdistan legislature that would restrict freedom of press even further.
Critics of the KDP and PUK have said they expect little to change as long as opposition to the parties remains weak. Apart from the growing criticism of the few independent media outlets that exist in the region, there has been little organized opposition.
Including Minority Parties
One exception is the Kurdistan Islamic Union, which withdrew from the Kurdistan Coalition ahead of December's legislative elections, citing dominance of the KDP and PUK over Kurdish region politics, as well as corruption in the Kurdish Regional Government. The union was subsequently attacked in seven Kurdish towns by what the authorities deemed a "mob of youths." The union, meanwhile, contended that the KDP had orchestrated the attacks. Despite the attacks, the party walked away with five seats in the 275-seat Iraqi National Assembly, and in January vowed to cooperate with the KDP and PUK to promote Kurdish interests.
Leaders from minority parties criticized the KDP and PUK in January of planning to divide ministerial posts between the two sides, claiming the parties had an agreement in place to solidify their control over the Kurdish region. In the end, seven of the 42 ministers named were from minority parties. However, only two of the seven were given portfolios.
When parliament convened last week to hold a vote of confidence in the cabinet, lawmakers were asked to vote in open session for the cabinet. Although 52 parliamentarians objected, calling for vote by secret ballot, their request was denied, "Jamawar" reported on May 8. The newspaper also criticized the parties for appointing only three female ministers.
Transparent?
"Jamawar" further reported that the names of the ministers were not announced prior to the vote of confidence being taken. Parliamentarian Tavgah Muhammad Ali claimed that only a "few members" of the parliament had seen the list of ministers. Moreover, the ministers' qualifications were not made public, Ali claimed.
"This government is the result of a political consensus," he said. "It is not a government whose ministers have been selected on a technocratic basis."
In addition to overcoming the demands of an increasingly frustrated electorate, the KDP and PUK face the additional challenge of merging four other ministries: Justice, Peshmerga Affairs, Interior, and Finance. Before this can be accomplished, the two parties will need to overcome the distrust that has plagued relations for more than a decade
Kurdish region legislator Karim Bahri told RFE/RL's Radio Free Iraq (RFI) on May 8 that the assembly's Legislative Committee is drafting legislation that would clear the way for those ministries to merge. In reality, it could be years before they are united.
"It is natural that technical and legal complications occur, in addition to other issues that have still to be resolved between the [Irbil and Al-Sulaymaniyah] administrations [of the KDP and PUK]," Bahri said. "It will need some more time before we are able to unify these four ministries -- to form the legal, technical, and organizational aspects."
He added that it would be two or three months before the other ministries begin functioning.

Iraq's Kurdish Region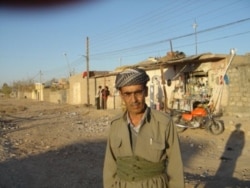 KURDISH AWAKENING: The ethnic Kurdish region in the northern part of Iraq has struggled in recent years to reestablish its cultural and political identity after decades of oppression under the regime of deposed Iraqi President Saddam Hussein. In December, RFE/RL correspondent Charles Recknagel traveled to this area and filed several reports:
Relative Peace Underscores Issue Of Kurdish Region's Future
Kurdish Culture Begins To Flourish In Kurdistan Region
Kurds Ponder How To Strengthen Autonomy After Elections