U.S. General Sees No Troop Cut In Iraq Before Spring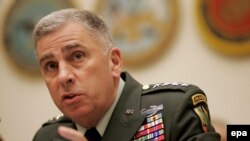 U.S. General John Abizaid (file photo) (epa) September 19, 2006 -- The commander of U.S. military forces in the Middle East says more than 140,000 U.S. troops will be needed in Iraq through next spring.
Last year, U.S. military leaders said they hoped to reduce troop levels to about 100,000 by the end of this year. General John Abizaid says sectarian violence in the country means that is now impossible.
(AFP, AP)


SUBSCRIBE For weekly news and analysis on Iraq by e-mail,
subscribe to "RFE/RL Iraq Report."