No injuries were reported.
Marat Kulakhmetov, a commander with the Georgia-Russian-Ossetian peacekeeping forces, said it was still unclear who fired first.
The shooting comes one day after assailants attacked police posts in the regional capital, Tskhinvali, injuring three police officers.
The chairman in office of the Organization for Security and Cooperation in Europe (OSCE), Spanish Foreign Minister Miguel Angel Moratinos, expressed concern over the violence.
In a statement today, Moratinos urged all sides to exercise restraint and engage in a "meaningful political dialogue."
(with material from agency reports)
South Ossetia Cease-Fire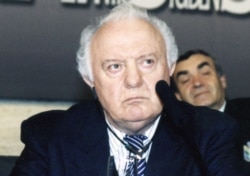 Former Georgian President Eduard Shevardnadze (RFE/RL)

'NO OTHER WAY OUT': Georgia's parliament on February 15 called upon the government to review the 1992 agreement that put an end to the war with South Ossetia and secure the withdrawal of all Russian peacekeepers stationed in the separatist republic. Officials in Tbilisi have long accused the Russian soldiers of siding with the separatist forces and posing a threat to Georgia's national security. Russia has protested the Georgian vote, arguing that Tbilisi has no right unilaterally to amend the 1992 peace agreement. Georgia, in turn, says it has the right to do so.
RFE/RL's Georgian Service correspondent Nona Mchedlishvili asked former President EDUARD SHEVARDNADZE, who signed the agreement with his then Russian counterpart, Boris Yeltsin, to comment on the dispute....(more)
See also:
Tbilisi Seeks EU Support As Tensions Rise In South Ossetia