The offer came from Muhammad el-Baradei, the head of the UN's International Atomic Energy Agency (IAEA), who says the "timeout" is urgently needed to provide an opportunity for dialogue.
Iran has reacted cautiously to the suggestion by el-Baradei that the UN should delay implementing its sanctions -- imposed by the UN Security Council in December -- if Tehran would also halt work on uranium enrichment.
Iran's top nuclear negotiator, Ali Larijani, would only say on January 28 that the offer will be considered.
Although the UN sanctions are not very tough -- forbidding the supply to Iran of nuclear parts and equipment -- nevertheless they are set to have an impact.
Taking Its Time
"Iran needs time to review such an initiative to see whether it has the capacity to resolve Iran's nuclear issue," he said.
Appearing at the same Tehran press conference with Larijani was the head of the Russian Security Council, Igor Ivanov. He urged the Iranians to give close consideration to the idea, saying that a "timeout" could lead to a negotiated resolution of the nuclear program dispute.
Iran analyst Mark Fitzpatrick, of the International Institute of Strategic Studies in London, says that in presenting this initiative el-Baradei is using an old diplomatic ploy aimed at bringing some movement to a standoff.
"The suggestion to have both kinds of suspension simultaneously is a frequent diplomatic method [used] when two sides are at loggerheads in a negotiation, asking each other to do something," he said. "If they do it simultaneously this is often a way to get out of an impasse, a face-saving way."
In his remarks, Ivanov also said there is no military solution to resolving the controversy over Iran's nuclear program -- an opinion shared by el-Baradei as well as by Pakistani Prime Minister Shaukat Aziz, both of whom have said that a military attack on Iran's nuclear facilities would have "catastrophic" consequences for the entire region.
Military Buildup?
Their comments on the use of force come as the United States is moving heavy naval units into the Persian Gulf to "remind" Iran that it will not tolerate Iran developing nuclear weapons through its nuclear program. Tehran says the program is purely for civilian purposes.
But will Iran's hard-line leadership give serious consideration to el-Baradei's offer? Iran has in the past expressed initial interest in compromises only to stall and then, months later, to reject the offer outright. Tehran's guiding principle appears to be that Iran must carry out its own enrichment work regardless of what it may cost the country in terms of exclusion from the international community.
But Fitzpatrick says that following the UN's adoption of the sanctions on Iran in December, a debate has been going on in Tehran about the mistakes made by the hard-line regime of President Mahmud Ahmadinejad.
"Combined with his economic-policy failures, the diplomatic failure of seeing a 15 to nothing vote against Iran in the Security Council was eye opening to many in Tehran," he said.
Impact Of Sanctions
Whether this will result in policy changes is not yet clear.
Fitzpatrick continues to say that although the UN sanctions are not very tough -- forbidding the supply to Iran of nuclear parts and equipment -- nevertheless they are set to have an impact.
That's because the sanctions also have provisions allowing countries to individually or collectively impose international financial penalties on Iran, such as the United States had sought, and these restrictions by some countries -- for example sanctions against Iranian banks by Washington -- are already biting into the Iranian economy.
The Iranian Economy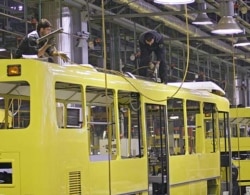 Buses being produced at a factory in Tehran (Fars)

IN NEED OF DIVERSIFICATION. Populist Iranian President Mahmud Ahmadinejad is having trouble fulfilling his promises to put the country's petrodollars on the plates of average citizens. Inflation and unemployment remain high and the economy is dominated by the energy sector.
RELATED ARTICLES
Foes Challenge President's Economic Rhetoric
Power Cuts In An Energy-Rich Land Spark Protests
Government Balks At Gasoline Rationing
Weak Economy Challenges Populist President
ARCHIVE
RFE/RL's
coverage of Iran
.
SUBSCRIBE
For weekly news and analysis on Iran by e-mail,
subscribe to "RFE/RL Iran Report."