John Negroponte, who is expected to move to the State Department after having served nearly two years as the first-ever director of National Intelligence, made the comment on January 30 to a Senate panel considering his nomination.
Washington accuses Tehran of secretly trying to develop nuclear weapons, a charge that Iranian officials reject.
The UN Security Council has imposed limited sanctions against Iran in an effort to persuade it to stop its uranium-enrichment activities.
The United States has not had official diplomatic relations with Iran since the hostage crisis that followed the Islamic revolution in 1979.
Some experts advocate opening a direct dialogue to address contentious issues that include Iran's nuclear activities and security and stability in Iraq.
The congressionally appointed Iraq Study Group recognized Iran's ability to influence events in neighboring Iraq and recommended dialogue with Iran and Syria as an avenue to boosting Iraqi security and stability.
Bush labeled Iran -- along with North Korea and Iraq -- part of an "axis of evil" in his 2002 State of the Union address.
Talking Technical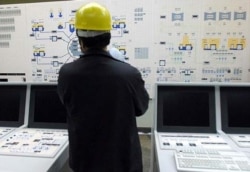 A control panel at the Bushehr nuclear power plant (Fars)

CASCADES AND CENTRIFUGES: Experts and pundits alike continue to debate the goals and status of Iran's nuclear program. It remains unclear whether the program is, as Tehran insists, a purely peaceful enegy project or, as the United States claims, part of an effort to acquire nuclear weapons.
On June 7, 2006, RFE/RL correspondent Charles Recknagel spoke with nuclear expert Shannon Kile of the Stockholm International Peace Research Institute in Sweden to help sort through some of the technical issues involved. "[Natanz] will be quite a large plant," Kile said. "There will be about 50,000 centrifuges and how much enriched uranium that can produce [is] hard to say because the efficiency of the centrifuges is not really known yet. But it would clearly be enough to be able to produce enough [highly-enriched uranium] for a nuclear weapon in fairly short order, if that's the route that they chose to go...." (more)
RELATED ARTICLES
Tehran Says It Is Working On Advanced Nuclear Fusion
Would Light-Water Reactor Suit Tehran's Needs?
Satellite Images Raise Questions About Iran's Nuclear Program
Centrifuges And Political Spin?
How Close Is Iran To Getting Nuclear Bomb?
Iran: The Worst-Case Scenarios

THE COMPLETE STORY: RFE/RL's complete coverage of controversy surrounding Iran's nuclear program.