Middle East: RSF Calls Iraq, Iran 'Graveyard Of Freedom'
Hajar Smouni (file photo) (RFE/RL) February 1, 2007 (RFE/RL) -- Reporters Without Borders (RSF) says 2006 was the deadliest year for journalists in more than decade. The death toll was the highest since 1994, a year of conflicts in Rwanda, Algeria, and the former Yugoslavia. In its "Freedom Of the Press Worldwide In 2007" report released today, the Paris-based group says 81 media staffers died in the course of their work last year -- 65 of them in Iraq. RFE/RL correspondent Eugen Tomiuc talked to Hajar Smouni, from RSF's Middle East desk, about the situations in Iraq and Iran.
RFE/RL: Your report calls the Middle East region and Iraq, in particular, "the graveyard of freedom." Could you sum up the situation of media freedom in Iraq for us?

For regular news and analysis on media issues throughout RFE/RL's broadcast area by e-mail,
subscribe to "RFE/RL Media Matters."
Hajar Smouni: There are two main threats. There are threats that journalists are killed anywhere, at any time. Most of those killed last year were the victims of targeted attacks. They were killed outside their offices or outside their homes -- or also, some of them were killed after being kidnapped. Those are the two main dangers that journalists face -- targeted attacks and kidnappings. Most of the journalists that were attacked in 2006 are local journalists. The reasons for that -- the major one is that they live among the population, without any particular protection measures, so they are easy to find.
RFE/RL: The report says that in Iran, fewer journalists are currently in jail, but many of them are being harassed with legal procedures and daily threats. Could you outline the overall situation of the media in Iran?
Smouni: Iran is one of the repressive regimes against journalists and against the media. What we have noticed in 2006 is that there was a new form of pressure. If you look at the statistics, you're going to see that [fewer] journalists have been jailed in 2006. You're going to see that [fewer] of them have been [convicted].
But there is a new form of pressure that they are facing that is not less dangerous or less repressive. What we've noticed is that journalists are being arrested, they are being questioned by prosecutors and then they are being released on bail, without having a date for a trial set, or without having the possibility to express themselves or to defend their case. And so this threat, this trial stays as a menace in case they write something that will displease the regime again.
NOT REALLY SO FUNNY:
The Paris-based World Association of Newspapers asked French cartoonist Michel Cambon to produce a series of cartoons on the theme of jailed journalists to mark World Press Freedom Day (May 3). Below, RFE/RL reproduces several of Cambon's cartoons.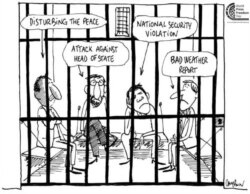 (WAN/Cambon)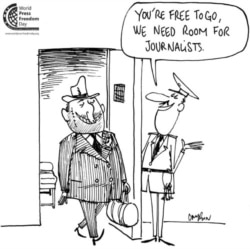 (WAN/Cambon)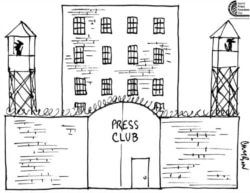 (WAN/Cambon)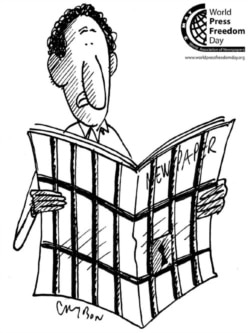 (WAN/Cambon)

RFE/RL's Press Freedom Day stories:
Iraq: Covering The Most Dangerous Beat On Earth
Afghanistan: Women In Journalism Battle Restrictions, Threats
Iran: State Maintains Tight Control Over Information
CIS: Press Freedom In Former Soviet Union Under Assault
Central Asia: Bureaucratic Obstacles Hinder Journalists
Central Asia: Governments Wary Of Independent Media
Central Asia: Journalists Still Face Harassment, Threats

ARCHIVE
To view an archive of RFE/RL's coverage of media-related stories, click here.
SUBSCRIBE
For regular news and analysis on media issues throughout RFE/RL's broadcast area by e-mail,
subscribe to "RFE/RL Media Matters."