With Romania's entry into the EU, the potential for people from Europe's poorest country to gain a backdoor entrance into Western labor markets has become a major concern for EU policymakers.
Newspapers in Britain were the first to warn of a "Moldovan invasion" caused by Romania's citizenship policies, which allow many Moldovans to claim Romanian passports.
For many Moldovans, travel to Romania is a regular part of life. They attend school, work, and regularly travel to Romania for vacation or to visit family.
At least four major British dailies featured articles warning that hundreds of thousands of Moldovans, "without money or prospects," may be headed toward the European Union.
530,000 New Romanians?
The British headlines were sparked by a BBC report in October 2006 citing a statement from Romania's vice-consul in Chisinau, Lucian Stanica.
Stanica said that during the months of August and September, the Romanian consulate received 300,000 citizenship requests from Moldova.
Since Romania's accession into the EU on January 1, 2007, this number has climbed even higher.
In a speech in Chisinau on January 16, Romanian President Traian Basescu said there were nearly twice as many applications pending for citizenship from Moldova.
"There are still 530,000 people waiting to hand in their citizenship requests. And out of those which have already been handed in to the Romanian Embassy in Chisinau, the majority concern at least two people -- if not three or even four," Basescu said. "By our evaluation, this means that there are, realistically speaking, around 700,000 or 800,000 requests for Romanian citizenship."
Concerns about mass Moldovan migration into the EU have been further inflamed by the large number of Moldovans already working abroad.
The International Monetary Fund estimates that a quarter of Moldova's economically active population works outside of the country.
For some Moldovans, a Romanian passport is a logical method for legally gaining access to Western labor markets.
Indeed, a survey conducted in 2006 by the IMAS-INC Chisinau polling agency revealed that 48 percent of Moldovans would get a Romanian passport if they could, and 85 percent of those people said they would use the passport to work in the EU.
Red Tape, Long Lines
Romanian citizenship laws have also fueled concern.
Romania defines citizenship based on nationality rather than residence. Citizens of Moldova who can demonstrate that either they, their parents, or their grandparents lived in Moldova when it was a part of Romania before the end of World War II are eligible for dual citizenship.
The process for acquiring citizenship, however, was substantially changed in 2003.
The new laws require that Moldovans undergo a long bureaucratic process before dual citizenship is granted.
The letters of request, which the British reports cited, are only the first step in the process. Of all the letters received since 2003, only 30,000 went to the second step of submitting a file. Of these, only 3,000 people were granted citizenship.
Monica Macovei, of the Romanian Ministry of Justice, told the BBC in an October interview that, since citizenship laws have not been relaxed since 2003, it is highly unlikely that the number of requests granted will increase significantly.
Closing the Border
At the same time as countries in the EU are concerned about potential immigration from Moldova, regular Moldovans are having to cope with the sudden closing of their western border.
For many Moldovans, travel to Romania is a regular part of life. They attend school, work, and regularly travel to Romania for vacation or to visit family.
For example, an important part of the central market in the Romanian city of Botosani, has traditionally been made up of Moldovans selling various goods, particularly food, for less than the price of department stores.
For them, and for the Romanians who do business with them, the new visa restrictions are a significant hardship.
In addition, both the extent of the visa restrictions and Romania's lack of preparation for the new policy have caught many Moldovans by surprise.
Despite assurances by Basescu that Romania's entrance into the EU would not inhibit the free flow of Moldovans across the border, the consulate in Chisinau has been overwhelmed by visa requests.
Operating At Capacity
Romania has added new staff and facilities in an effort to help ease the procedure. In addition to expanding its operations in Chisinau, Romania is opening new consulates in the Moldovan cities of Cahul and Balti. More than 40 staff from Romania's foreign and interior ministries are currently employed in the business of handling Moldova's citizenship and visa requests.
But even with the addition of new staff, including workers for night and weekend shifts, the number of Moldovans visiting Romania dropped threefold in early 2007 compared to the same time in 2006.
Prior to January 1, there was confusion, both in the media and the Romanian consulate, about how border regulations would be implemented.
In one anecdote, a security shift supervisor from Chisinau reportedly found himself in a very difficult situation while returning to Moldova through Romania. He drove to Bucharest with his wife and child, in order to fly to Italy for the New Year. They, like many other Moldovans, prefer flying from Romania, because discount carriers make it less expensive than flying from Chisinau.
Before leaving, the Romanian consulate assured him that he could return to Moldova via Bucharest without a visa. When he and his family returned to Bucharest, however, they were told that a new law, passed on January 2, required that they have a Romanian visa.
They were told to return to Italy and apply for a visa -- a process which would have required a four-day stay and would have cost them at least $1,000 in airline tickets and hotels. Only the last-minute intervention of the Moldovan Ministry of Foreign Affairs prevented them from being forcefully put on a plane back to Italy.
The Dilemma
While some in the EU worry about immigration from Moldova, others raise concerns that restricting the border may produce even more economic migrants. Recognizing this dilemma, international donors have pledged $1.2 billion in aid for Moldova over the next three years.
This is not just an issue for the EU. The outflow of Moldova's workforce is one of the main obstacles to the country's social and economic development.
Not only does emigration drain Moldova's workforce, but between 150,000 to 270,000 of Moldova's children are being raised without a mother or father, and around 40,000 are separated from both. Until citizens are able to earn a living wage in Moldova, however, the attraction of emigration is unlikely to abate.
(Ryan Kennedy is a Ph.D candidate and a Fulbright researcher from Ohio State University, currently in Moldova.)
The EU's Visa Regime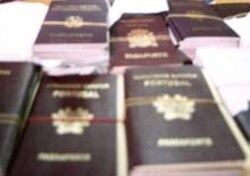 Standard visas to enter the European Union cost 35 euros ($44). However, the price rises to as much as 70 euros if the person applies within three days of departing.
Countries outside the European Union can negotiate their own treaties with the bloc.
Some visa fees are waived for certain applicants, notably for officials, students, athletes, scientists, or people receiving medical treatment.
Decisions on granting visas usually take 10 calendar days.
EU visa agreements do not apply to the United Kingdom and Ireland. Those countries have opted out of EU visa and immigration policy.
From January 1, 2007, the price of a Schengen-zone visa goes up by nearly 75 percent from 35 euros to 60 euros. Twenty-six countries are signatories to the Schegen agreement. They include all the EU states, with the exception of Ireland and the United Kingdom, and include the non-EU states of Iceland, Norway, and Switzerland. However, only 15 of the signatories have so far implemented the system. The new EU members from Central and Eastern Europe are among those countries yet to implement the agreement. EU officials have said the price rise is due to the need to integrate biometrics identifiers, for instance fingerprints, into the visa-application process.
Under readmission treaties, EU member states can ask a country to readmit illegal immigrants. That applies to a country's nationals or any third-country nationals who have transited through its territory.