The report also warns that global warming is likely to cause profound changes to the Earth's environment in upcoming decades.
"The global concentrations of carbon dioxide, methane, and nitrous oxide -- all greenhouse gases -- have increased markedly since 1750," said Susan Solomon, co-chair of the Intergovernmental Panel on Climate Change Working Group. "And they are now far, far above the values seen in ice cores in many, many thousands of years."
And, she said, the UN-chartered panel has no doubt as to who is responsible.
"For all those gases -- when we look at this dramatic rise that is so different from the behavior in thousands of years -- there can be no question that the increases in these gases, these greenhouse gases, are dominated by human activity," she said.
The panel's report put its level of certainty at 90 percent that the activities of humans are driving climate change.
Big Changes In Five Years
That is a much stronger level of warning than the same panel issued just five years ago.
In 2001, the group estimated there was a 66 percent to 90 percent likelihood that human activities were influencing rising global temperatures and sea levels.
The panel warned today that global warming, if not curbed, is likely to cause profound changes to the Earth's environment in upcoming decades.
And it made it clear that it is up to us to determine whether our habitat -- as we know it today -- further changes or whether steps are taken to safeguard it.
The scientists concluded that average temperatures could rise between 1.8 degrees Celsius to 4 degrees Celsius by the end of this century. However, it said the increase might be as small as 1.1 degrees Celsius or as large as 6.4 degrees Celsius.
They said it is more difficult to predict how high sea levels could rise and at what rates.
But they said that, according to conservative estimates, there could be a future average rise in sea levels globally of 18 centimeters to 58 centimeters by the end of the century.
"In terms of direct observations of recent climate change," Solomon said, "the key conclusion is that warming of the climate system is now unequivocal -- unequivocal -- and that's evident in observations of air and ocean temperature, melting of snow and ice, rising global mean sea level."
Links To Tropical Storms Possible
The panel gave some support to theories that rising global temperatures contribute to more violent tropical storms in some regions. It said the likelihood of that is greater than 66 percent.
The panel's 1,600-page report makes no recommendations regarding what actions to take to slow global warming.
But it is just the first part of a longer UN climate report to be released later in the year that will address just such questions.
Global Climate Change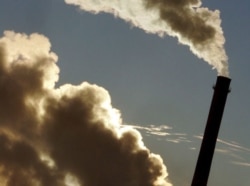 View a photo gallery summarizing some key findings of the Stern report on the economic costs of global warming (epa)

THE STERN REPORT: In October, former World Bank chief economist Sir Nicholas Stern issued a 700-page report on the economic impact of global warming. The report, which was commissioned by the British government, estimates that climate change could cost between 5 and 20 percent of global GDP by the end of the century....(more)
RELATED ARTICLES
Siberia's Once Frozen Tundra Is Melting
Blair Highlights Global-Warming Concerns
Scientists Argue About Need For Urgent Action
ARCHIVE
RFE/RL's
coverage of the environment
.