Stopping first in Belgrade and then flying to Pristina, Martti Ahtisaari recommended a form of limited statehood that falls short of the demands of both Belgrade and Kosovo's majority ethnic Albanians.
The wording reportedly makes no mention of Serbian sovereignty over Kosovo, and no mention of independence for Kosovo.
Kosovo would be allowed a flag, an anthem, a lightly armed security force, and its own border guards.
Those are terms that Belgrade and Pristina, respectively, had demanded in any final settlement of the province's status.
Instead, Martti Ahtisaari's plan details a midway position in which Kosovo will receive some of the trappings of statehood while remaining under the immediate supervision of the international community.
"The aim of the settlement is to lay the foundations for a future Kosovo that is viable and stable, a future Kosovo where members of all communities -- Albanian, Serb, and other communities -- can live a dignified, safe, and economically more sustainable life," Ahtisaari said.
Flag And Anthem For Kosovo
The proposal reportedly calls for appointing a UN- and European Union-mandated supervisor over Kosovo with the power to veto legislation and dismiss local officials.
That would replace the current UN mission that supervises Kosovo.
And the EU would deploy a police mission alongside the existing NATO force.
However, Kosovo would gain the right to enter into international agreements and join international organizations.
And it would be allowed such national symbols as a flag, an anthem, a lightly armed security force, and its own border guards.
All that would give Kosovo a bigger place on the world stage.
At the same time, the province's estimated 100,000 ethnic Serbs, as well as other non-Albanian minorities, would be guaranteed levels of representation in parliament, the police, and other institutions.
And municipalities with Serb majorities would gain powers of self-government.
In early reaction, Serbian President Boris Tadic rejected the plan, saying it "opens the possibility of independence."
In a statement issued after today's talks, Tadic said Serbia will never accept Kosovo's independence.
Russia's View Key
With today's formal presentation of Ahtisaari's proposal, the last -- and perhaps most difficult -- stage in deciding Kosovo's future status begins. That is, getting the UN Security Council to approve the proposal so the international community can implement it.
Ahtisaari said today in Belgrade that he was "willing to integrate compromise solutions that parties might reach, and I will then finalize my settlement proposal for submission to the UN Security Council."
He said he would invite the rival sides to meet on February 13, but gave no indication of when his final document would be forwarded to New York.
So far, Russia -- Belgrade's traditional ally -- has threatened to veto any resolution that would impart independence on the Serbian province. If Kosovo gets independence, Serbia would lose some 15 percent of its land.
Kosovo has been administered by the UN since 1999. when NATO forced Belgrade to withdraw its forces from the province after they killed thousands of ethnic Albanian citizens in counterinsurgency operations and forced tens of thousands more to flee their homes.
The Kremlin Looks At Kosovo...And Beyond
The Kremlin Looks At Kosovo...And Beyond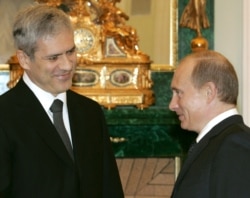 Russian President Vladimir Putin (right) greets Serbian President Boris Tadic in the Kremlin in November 2005 (TASS)
WILL THE KREMLIN BACK INDEPENDENCE? As the drive for independence grows in the Serbian province of Kosovo, the international community is speculating on how Russia, a veto-wielding member of the UN Security Council, will act. On September 22, Nicholas Whyte, director of the International Crisis Group's Europe Program, gave a briefing on the subject at RFE/RL's Washington, D.C., office. He speculated on what the Kremlin's "price" might be for agreeing to Kosovo's separation from Serbia.
LISTEN
Listen to the entire briefing (about 45 minutes):
Real Audio
Windows Media
RELATED ARTICLES
Referendums Seen As Kremlin's Master Plan
Independence Votes Popular In The Kremlin
Putin Warns Against Montenegro Model
How Does Moscow View Frozen CIS Conflicts?
Putin Calls For 'Universal Principles' To Settle Frozen Conflicts
ARCHIVE
RFE/RL's coverage of
Kosovo
and
Russia
.
SUBSCRIBE
For news and analysis on Russia by e-mail,
subscribe to "RFE/RL Russia Report."