EU Looks To OSCE As A Model For Kosovo, Central Asia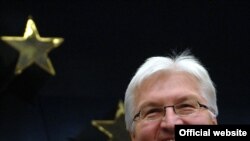 Foreign Minister Steinmeier (file photo) (official site) January 18, 2007 (RFE/RL) -- German Foreign Minister Frank-Walter Steinmeier today said the Organization for Security and Cooperation in Europe's (OSCE) confidence-building measures could serve as a model for the EU's strategy on Central Asia and Kosovo.
Steinmeier, whose country is holding the EU's rotating presidency for the first half of this year, called on Central Asian states and Kosovo to work harder to achieve security and stability through dialogue.
Steinmeier made his remarks in Vienna while addressing OSCE's Permanent Council.