The command center is to be headed by Iraqi Lieutenant General Abud Qanbar.
U.S. Colonel Doug Heckman, an adviser to the Iraqi Army, said the planned offensive will be of a much greater magnitude than previous security crackdowns against militants in Baghdad.
Heckman said the offensive was expected to begin soon after the command center becomes operational.
It was not immediately clear how many Iraqi and U.S. troops will take part in the offensive.
U.S. President George W. Bush has ordered more than 21,000 additional U.S. troops to Iraq, most of them planned to assist the Baghdad security operation.
The command center is coming into operation following a fresh series of deadly sectarian attacks in Baghdad, including a truck bombing on February 3 that killed some 130 people in a Shi'ite area of the capital.
(AP, Reuters)
On The Verge Of Civil War
On The Verge Of Civil War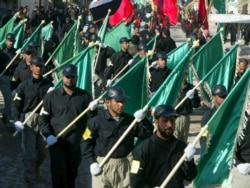 The Imam Al-Mahdi Army on parade (epa)
HAS THE CONFLICT IN IRAQ BECOME A CIVIL WAR? Many observers have concluded that the tit-for-tat sectarian violence that emerged after the February 2006 bombing of a mosque in Samarra has become a full-blown civil war.... (more)


RELATED ARTICLES
U.S. Media Starts Using 'Civil War' Label
Iraqi Prime Minister Under Fire From All Sides
U.S. Expert Discusses Prospects For Stabilization
President Says Iraq Needs Iran's Help
Saudi Arabia To Seal Off Border With Security Fence

THE COMPLETE PICTURE:
Click on the image to view RFE/RL's complete coverage of events in Iraq and that country's ongoing transition.