In a new report, the U.S.-based media freedom advocacy group calls Putin and Chavez "democratators" -- popularly elected autocrats.
It says the two leaders have created legal frameworks in their countries to control, intimidate, and censor the news media.
The report notes that 13 journalists have been murdered in Russia since Putin took power in 2000.
CPJ Executive Director Joel Simon told RFE/RL that during a recent visit to Russia, he had discussed the journalists' deaths with government representatives.
"In one of those meetings with the Foreign Ministry, we discussed Russia's terrible record of impunity," Simon said. "Thirteen journalists have been murdered in Russia since [President Vladimir] Putin came to power. None of those cases have been adequately investigated."
Simon said there appears to be "some progress," however, in that some of the cases are being prosecuted. And he noted that Putin last week acknowledged for the first time the vital role that journalists play in Russia.
In its report, the CPJ also says 55 journalists were killed in 2006 while doing their jobs, including 32 covering the Iraq war, most of them Iraqis.
The report also accuses Iranian authorities of taking a "revolving-door approach" to restricting journalists by imprisoning reporters for short periods of time and releasing them before an international outcry can develop.
(with material from agency reports)
Democracy In Russia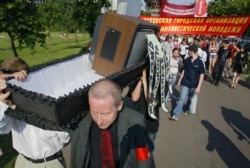 Demonstrators in Moscow carry a coffin with a television in it to protest government control over broadcasting (TASS file photo)


DO RUSSIANS LIKE THEIR GOVERNMENT? During a briefing at RFE/RL's Washington office on November 15, Richard Rose, director of the Center for the Study of Public Policy at the University of Aberdeen, discussed the results of 14 surveys he has conducted since 1992 on Russian public opinion about democracy and the country's development. He discussed the implications of these opinions for relations with the West and for Russia's 2008 presidential election.
LISTEN
Listen to the complete discussion (about 42 minutes):

Real Audio
Windows Media
RELATED ARTICLES
U.S. Election Expected To Chill Relations With Moscow
Are Mayors Next 'Power Vertical' Victim?
Monarchist Nostalgia Remains Powerful
Russian Election Commission Rejects Third-Term Appeal
Romanov Burial May Be Part Of Kremlin Image Campaign
ARCHIVE
All of RFE/RL's English-language coverage of
Russia
.


UPDATED CONSTANTLY: Visit RFE/RL's Russian-language website, featuring news, analysis, features, streaming audio, and more, in Russian, from RFE/RL's Russian Service.