The group says in a report released today that such a strike could have "highly dangerous" consequences, including further destabilizing neighboring Iraq, undermining efforts for Israeli-Palestinian peace, strengthening Iranian hard-liners, and driving up world fuel prices.
"We think that it is important that every effort is made to pursue a diplomatic option because we think that the consequences of military action are just far too serious and would be unthinkable in their extent and damage,"Adam Leach, the director for the Middle East at the charity group Oxfam, told RFE/RL.
The report urges Blair to pressure the United States to engage in talks with Tehran.
Groups backing the report include British trade unions, Oxfam, the Muslim Council of Britain, Christian Solidarity Worldwide, and the left-leaning Foreign Policy Center think tank.
The United States, which has accused Iran of secretly trying to make nuclear weapons, has declined to rule out possible military action if Iran does not halt its nuclear activities. The United States also accuses Iran of supporting insurgents in Iraq.
Iran denies any effort to develop nuclear bombs.
(with material from AP, AFP, BBC)
Avoiding International Isolation
Avoiding International Isolation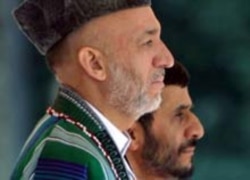 Afghan President Hamid Karzai (left) with Iranian President Mahmud Ahmadinejad in Tehran on May 27 (epa)
DIPLOMATIC OFFENSIVE:
As the United States and the European Union increase pressure on Iran regarding its nuclear program, Tehran has launched a wide-ranging and ambitious diplomatic offensive, including high-level state visits with countries including China, Indonesia, Afghanistan, Azerbaijan, and Pakistan. In May, Iranian President Mahmud Ahmadinejad participated in a high-profile
summit of the so-called Developing 8 (D8) group
of countries in Bali. Below are some links to RFE/RL's coverage of Iran's efforts to boost international support for its position.
Tehran's Shanghai Plans Seen As Bold Geopolitical Stroke
Nonaligned Movement Expresses Support For Iran
Afghan, Iranian Presidents Tout Strong Historical Ties
Iranian Foreign Minister In Pakistan For Energy Talks
Iranian Foreign Minister Visits Baghdad
ARCHIVE
To view all of RFE/RL's coverage of Iran, click here.

THE COMPLETE STORY: RFE/RL's complete coverage of controversy surrounding Iran's nuclear program.