The kidnappers reportedly wore the uniforms of the elite Iraqi 36th Commando Battalion. At least four of their number were arrested by the police at the scene during the incident. The arrested men did not remain for very long in police hands, however, because other soldiers came and took them away before local police could question them.
But today, Iraqi Foreign Minister Hoshyar Zebari announced that four Iraqi military officers have been detained in connection with the kidnapping. He said there are questions about the officers' allegiances, but he did not elaborate.
Sharafi has disappeared and no demand has been made public by his kidnappers.
"We are in close contact with the Iraqi authorities regarding the situation with our country's diplomat kidnapped in Baghdad," Iranian Foreign Minister Manuchehr Mottaki told journalists in Tehran today.
Iran Says U.S. Responsible
Iranian authorities were quick to condemn the abduction, believed to be the first of an Iranian diplomat in Iraq since relations were restored following the overthrow of President Saddam Hussein.
Iranian Ambassador to Iraq Hassan Kazemi-Qomi blamed the United States, saying the deed fell "in the framework" of a policy just announced by U.S. President George W. Bush, who pledged that Iranian "agents" in Iraq will be prevented from continuing to inflict harm on U.S. military forces or on Iraqi civilians.
U.S. State Department spokesman Sean McCormack explained Bush's remarks: "In the case of Iran working with networks inside Iraq, those working with networks that pose a danger to American soldiers, absolutely, we're going to confront those networks because they pose a direct threat to the lives of American soldiers, and we are going to take whatever steps in Iraq that we deem necessary in order to protect our forces."
But the U.S. military in Iraq has denied any involvement in the kidnapping of Sharafi, and has also denied that any Iraqi units working with U.S. forces were involved. That's important, because reporters in Baghdad say the 36th Commando Battalion often works closely with U.S. troops.
U.S. Detaining Other Iranians
What the U.S. military has previously acknowledged, however, is that in a series of raids in Iraq since December it detained seven Iranian officials, two of whom it claimed were members of Iran's elite Islamic Revolution Guards Corps.
It's clear that these detentions are part of the new U.S. policy, even though they occurred before Bush's announcement of it.
Iranian Vice President Esfandiar Rahim-Mashaei was more cautious than the ambassador in assigning blame for the Sharafi kidnapping.
"I cannot say who has done this [kidnapping]. What is important is that we are in great need of peace there, and that is only possible by giving the power to the people and the government," he told reporters in Madrid on February 6. "Everyone should strengthen the national government. We should support it and not interfere so that the national government can resolve these issues."
Rahim-Mashaei was speaking from the perspective of Shi'ite Iran's support for the Shi'ite-dominated Iraqi government of Prime Minister Nuri al-Maliki. Tehran has offered to help al-Maliki with equipment and advice on fighting the Sunni-led insurgency now raging in Iraq, and has also offered reconstruction help.
But the United States does not see these offers of assistance as benign. U.S. Ambassador to Iraq Zalmay Khalilzad has suggested that Tehran may be using its links to Shi'ite groups now in the Iraqi government in order to keep Iraq divided and, therefore, weak, so that it can pursue its own desires to dominate the region.
Khalilzad has said that on the contrary, Iraq must be able in future to continue its long-established role of balancing Iran's regional ambitions.
On The Verge Of Civil War
On The Verge Of Civil War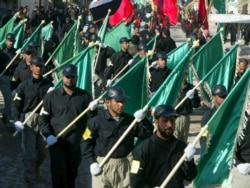 The Imam Al-Mahdi Army on parade (epa)
HAS THE CONFLICT IN IRAQ BECOME A CIVIL WAR? Many observers have concluded that the tit-for-tat sectarian violence that emerged after the February 2006 bombing of a mosque in Samarra has become a full-blown civil war.... (more)


RELATED ARTICLES
U.S. Media Starts Using 'Civil War' Label
Iraqi Prime Minister Under Fire From All Sides
U.S. Expert Discusses Prospects For Stabilization
President Says Iraq Needs Iran's Help
Saudi Arabia To Seal Off Border With Security Fence

THE COMPLETE PICTURE:
Click on the image to view RFE/RL's complete coverage of events in Iraq and that country's ongoing transition.