Ahtisaari also said the Serbs and Kosovar Albanians have interpreted the plan, which he unveiled last week, as proposing internationally supervised statehood leading to independence for Kosovo, but he refused to say whether he agreed with their interpretation.
His comments came after Serbia on February 8 formally requested a delay in the final talks on the future status of Kosovo, which are scheduled to begin on February 13 in Vienna, Austria.
Today, ethnic Serbs in Kosovo are to hold protests in northern Mitrovica against the UN draft plan for the future status of the province. On February 10, ethnic Albanians have vowed to protest the UN plan in the province's capital, Pristina.
Ethnic Albanians, who make up 90 percent of Kosovo's 2 million people, have rejected Serbian offers of broad autonomy and are demanding independence.
Meanwhile, Russian Defense Minister Sergei Ivanov today warned that independence for Kosovo would open a "Pandora's box" of similar demands from other breakaway territories across Europe.
Russia's Foreign Ministry has said that international efforts to settle Kosovo's status must respect Serbia's internal politics and not impose artificial deadlines. The comments come after Russia's ally Serbia last week rejected a UN plan supporting greater autonomy for Kosovo.
(AP, Reuters, dpa)
The Kremlin Looks At Kosovo...And Beyond
The Kremlin Looks At Kosovo...And Beyond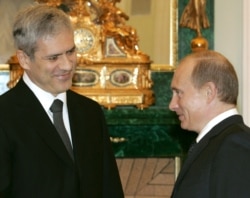 Russian President Vladimir Putin (right) greets Serbian President Boris Tadic in the Kremlin in November 2005 (TASS)
WILL THE KREMLIN BACK INDEPENDENCE? As the drive for independence grows in the Serbian province of Kosovo, the international community is speculating on how Russia, a veto-wielding member of the UN Security Council, will act. On September 22, Nicholas Whyte, director of the International Crisis Group's Europe Program, gave a briefing on the subject at RFE/RL's Washington, D.C., office. He speculated on what the Kremlin's "price" might be for agreeing to Kosovo's separation from Serbia.
LISTEN
Listen to the entire briefing (about 45 minutes):
Real Audio
Windows Media
RELATED ARTICLES
Referendums Seen As Kremlin's Master Plan
Independence Votes Popular In The Kremlin
Putin Warns Against Montenegro Model
How Does Moscow View Frozen CIS Conflicts?
Putin Calls For 'Universal Principles' To Settle Frozen Conflicts
ARCHIVE
RFE/RL's coverage of
Kosovo
and
Russia
.
SUBSCRIBE
For news and analysis on Russia by e-mail,
subscribe to "RFE/RL Russia Report."