Tadic was quoted by the Beta news agency as saying he seek the delay from the six-country Contact Group -- the United States, Russia, Britain, Germany, France, and Italy.
The next round of United Nations-mediated talks on Kosovo are scheduled for February 13 in Vienna, Austria.
Reports say the inauguration of the new parliament, elected last month, could be held in the coming days and would be followed by the formation of a new government and a new Serbian negotiating team for the Kosovo issue.
Serbian leaders have described as "unacceptable" the recently unveiled UN plan for Kosovo's future, saying it would clear the way for the independence of the predominantly ethnic-Albanian province.
U.S. Kosovo envoy Frank Wisner, who has backed the proposal, is due today to meet with Serbian leaders in Belgrade. Wisner on February 5 met with ethnic-Albanian leaders in Kosovo.
(compiled from agency reports)
Universal Principles?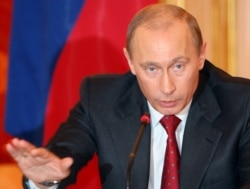 President Putin at a Kremlin meeting in April (epa)
PUTIN SPEAKS OUT: During a January press conference, Russian President Vladimir Putin said there is a need for "universal principles" to settle "frozen" conflicts in the CIS. His comments came against the background of impending talks on the future status of Kosovo, which many predict will grant it a form of "conditional independence" from Serbia and Montenegro. As an ally of Serbia, Moscow has consistently opposed the idea of Kosovar independence. Putin's remarks suggest he may be shifting his position, but only if the principles applied to Kosovo are also applied to frozen conflicts in the former Soviet Union. If Kosovo can be granted full independence, he asked, why should we deny the same to Abkhazia and South Ossetia? (more)
RELATED ARTICLES
Putin Calls For 'Universal Principles' To Settle Frozen Conflicts
Russia Key To OSCE's Attempts To Resolve Frozen Conflicts
Georgia Pushes For EU Backing In Standoffs With Russia
ARCHIVE
Click here to view archives of RFE/RL's coverage of the conflicts in Abkhazia, Chechnya, Kosovo, Nagorno-Karabakh, Ossetia, and Transdniester.