Chinese envoy Wu Dawei, announcing the deal in Beijing after a week of talks, said a major breakthrough was reached.

"With the disarmament of North Korea's nuclear facilities as the final goal," he said, "North Korea will close and shut down its Yongbyon nuclear complex."
The draft agreement must still be signed by all six countries negotiating over the North Korean nuclear crisis before the accord can take effect.
Wu added, "North Korea will invite inspectors back to North Korea to do the necessary inspections."

He said North Korea had agreed to shut down its main nuclear reactor within 60 days in return for fuel aid.
Agreement Still Has To Be Signed

"Approximately 100,000 tons of fuel oil and humanitarian aid, which will include a first batch of 50,000 tons of fuel, will be provided to North Korea," Wu said.

The Chinese envoy said the accord provides for Pyongyang receiving another 1 million tons of fuel oil - or equivalent aid - if it permanently dismantles its nuclear program.
The draft agreement must still be signed by all six countries negotiating over the North Korean nuclear crisis before the accord can take effect.

The U.S. chief negotiator at the six-party talks, Christopher Hill, welcomed the accord as meeting Washington's goals.
However, Hill told reporters the agreement was just the start of the process, and the parties "have a long way to go." He also said North Korea needs to address allegations that it is running a covert uranium program.
Under the deal, Washington would begin the process of removing North Korea from its list of terror-sponsoring states and move toward establishing diplomatic relations.

The chief Japanese negotiator Kenichiro Sasae, speaking separately in Beijing, also praised the agreement.

"We have a good draft agreement," he said. But he cautioned that "there are many different opinions, so it is necessary to have the North Koreans' positive opinion to get a [lasting] agreement."
South Korea's nuclear envoy Chun Yung-woo said today the agreement was "a new milestone in denuclearizing the Korean Peninsula."
A British Foreign Office spokeswoman told AFP Britain welcomed the "positive outcome of the latest round of the six-party talks."
Doubts Remain
Japanese Prime Minister Shinzo Abe said more action was needed. He said Japan would not contribute aid to North Korea until the issue of the abductions of its citizens, in the 1970s and 80s, is resolved. North Korea has admitted in 2002 it had kidnapped Japanese civilians to train its spies in Japanese language and culture.
Former UN weapons inspector Hans Blix urged caution telling a Swedish news agency it was "just a step on the road."
John Bolton, former U.S. ambassador to the UN, urged U.S. President George W. Bush to reject the deal. He told CNN that "it sends exactly the wrong signal to would-be proliferators around the world: 'If we hold out long enough, wear down the State Department negotiators, eventually you get rewarded.'

North Korea signed a similar accord in the 1990s which later fell apart over evidence Pyongyang was continuing to pursue a nuclear program.

Another meeting of nuclear negotiators is scheduled March 19.

The six party talks on North Korea nuclear program involve the United States, China, Japan, Russia, and the two Koreas.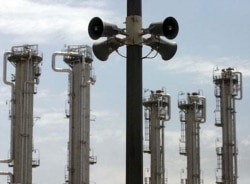 The Arak heavy-water plant in central Iran (Fars)


BENDING THE RULES. Henry Sokolski, executive director of the Nonproliferation Policy Education Center, told an RFE/RL-Radio Free Asia briefing on January 9 that the West is hamstrung in dealing with Iran and North Korea because of the way it has interpreted the international nonproliferation regime to benefit friendly countries like India and Japan.
LISTEN
Listen to the entire briefing (about 90 minutes):

Real Audio
Windows Media
RELATED ARTICLES
Iran, North Korea Present Proliferation Challenges
Tehran Watches As North Korea Tests Global Resolve
Rogue Nuclear Programs Threaten New Arms Race
Why Shouldn't Pyongyang Join Nuclear Club?