Iran considers Russia a partner in international affairs and for its nuclear activities, which is under international pressure to curb until Western powers are assured it is not a front for bomb-making activities.
Furthermore, Russian President Vladimir Putin reportedly favors a recent proposal by International Atomic Energy Agency (IAEA) Director-General Muhammad el-Baradei for a "time out" that would allow for a simultaneous freeze of UN sanctions and uranium-enrichment activity by Iran, providing a chance for negotiations to take place.
"We expect...Moscow to make every effort to prevent the approval of another resolution against Iran." -- Velayati
The UN Security Council voted on December 23 to give Iran 60 days to suspend uranium-reprocessing and -enrichment activities, which could create fuel for both civilian and military use, or face economic sanctions.
'Strategic' Visit
Velayati's visit came on the heels of a trip to Tehran by Russian Security Council Secretary Igor Ivanov. Officially, Velayati was to give Russian officials President Mahmud Ahmadinejad's written replies to messages Ivanov conveyed from Putin to Ahmadinejad and Ayatollah Khamenei, the Iranian daily "Etemad" reported on February 10.
Accompanied by Deputy Foreign Minister Mehdi Safari, Velayati met with Ivanov, Putin, and Foreign Minister Sergei Lavrov. Velayati told Iranian television on February 10 that his visit was a "strategic" response to the Ivanov visit, which he said clearly indicated Russia's desire to boost ties with Iran, Fars reported on February 11.

Putin told Velayati on February 8 that he is pleased there is "mutual dialogue at a working level" between Iran and Russia, ISNA reported.
Russia In Iran's Corner
Foreign Minister Lavrov asked that Iran show its goodwill and give a "positive response" to help resolve the nuclear dispute, AP reported. But Velayati told Iranian television on February 10 that "relations between Iran and Russia are far more active, comprehensive, and profound than [simply] dealings over the nuclear dossier."
And he added that "Russia believes Iran has a right to have peaceful nuclear energy, while another group of countries -- including America -- opposes this right," Fars reported.
Velayati added that "we expect...Moscow to make every effort to prevent the approval of another resolution against Iran." He added that Iran is unhappy that Russia voted for the December 23 UN resolution but, "to be fair," Russia "diluted" the resolution's contents and worked to postpone the resolution against Iran, IRNA reported on February 11.
Velayati added that his visit was a turning point in bilateral ties, and "after this trip we witness its positive effects in Russia's and Mr. Putin's personal positions," IRNA reported. He said Putin's criticism of U.S. policies at the Munich Conference on Security Policy on February 10 and Russian "tests without fuel" at the Bushehr nuclear plant are some of the early fruits of his talks in Russia.
Many-Headed Diplomacy
Iranian parliamentarian Darius Qanbari, a member of the parliament's National Security and Foreign Policy Committee, said in Tehran on February 9 that Velayati is not opposed to the "time-out" offer from the IAEA, an idea also supported by Russia. "Iran is ready for a limited suspension provided there is goodwill on the other side," aftabnews.ir quoted Qanbari as saying. He welcomed Velayati's visit as part of a flexible diplomacy that he said Iran should adopt, using experienced officials such as Velayati, who served as Iranian foreign minister from 1981-97.
Iran has been expressing its foreign-policy positions using a number of different voices. Velayati appears to be a new addition to the officials involved in handling Iran's nuclear dossier. They include, among others, President Ahmadinejad; Supreme National Security Council Secretary Ali Larijani, who is considered the ranking nuclear negotiator; Atomic Energy Organization chief Gholamreza Aqazadeh; Alaeddin Borujerdi, the head of the parliamentary National Security and Foreign Policy Committee; and Foreign Ministry officials.
The use of so many different officials in dealing with the nuclear program issue has been confusing at times and has led to contradictory statements sometimes being issued. One example was when 3,000 centrifuges were reported to have been installed in the Natanz uranium-enrichment plant -- only for another official to quickly say that they had not been installed.
Velayati's trip was considered to be of such great importance that one legislator, Javad Jahangirzadeh, who is on the National Security and Foreign Policy Committee, came out to say that he believes Velayati and Larijani do not have contradictory positions on the nuclear issue, aftabnews.ir reported. Jahangirzadeh emphasized that both are working toward the resumption of negotiations.
Whatever the various Iranian officials' roles on the issue, it is clear that the recent visits by top Iranian and Russian officials to each other's capitals for high-level talks is deemed by Tehran to have had broad implications of Russian support for its nuclear program.
The Proliferation Threat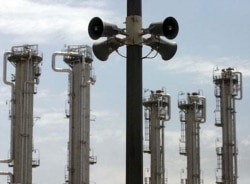 The Arak heavy-water plant in central Iran (Fars)


BENDING THE RULES. Henry Sokolski, executive director of the Nonproliferation Policy Education Center, told an RFE/RL-Radio Free Asia briefing on January 9 that the West is hamstrung in dealing with Iran and North Korea because of the way it has interpreted the international nonproliferation regime to benefit friendly countries like India and Japan.
LISTEN
Listen to the entire briefing (about 90 minutes):

Real Audio
Windows Media
RELATED ARTICLES
Iran, North Korea Present Proliferation Challenges
Tehran Watches As North Korea Tests Global Resolve
Rogue Nuclear Programs Threaten New Arms Race
Why Shouldn't Pyongyang Join Nuclear Club?