Lawmakers passed the bill earlier today.
Ilves said the legislation, which calls for the removal of Soviet as well as Nazi war monuments, violates Estonia's constitution.
The bill will be returned to parliament for further debate. Lawmakers are unlikely to reconsider the legislation before general elections on March 4.
Russian Opposition

Both Moscow and Estonia's ethnic Russian minority oppose the legislation.
Critics say the bill is aimed specifically at the Bronze Soldier, a World War II monument of a Red Army soldier in downtown Tallinn.
The chairman of the Russian State Duma's Foreign Affairs Committee, Konstantin Kosachyov, said the law's passage will harm relations between Moscow and Tallinn.

"If the most terrible thing happens, and the tombs are opened, and the monuments are dismantled, the Estonians should realize that there will be the most catastrophic consequences for our bilateral relations, particularly trade and economic relations," he said. "Russia will neither support, nor accept, nor forgive such actions by the Estonian authorities."
Russian Federation Council Speaker Sergei Mironov today called the bill's passage "a shame for Estonia and its parliament." He added that the legislation is a move toward "resurrecting fascism."

Estonian lawmakers today also passed a bill naming the day the Red Army occupied Tallinn "Resistance Day."
It was known as "Liberation Day" under the Soviets.
(with material from agency reports)
Russians In The Former Soviet Union
Russians In The Former Soviet Union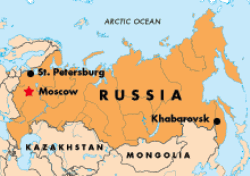 Click on the map to see how many Russians live in each of the former Soviet republics.


RUSSIANS OUTSIDE OF RUSSIA: A total of some 30 million ethnic Russians remain in the republics of the former Soviet Union, including large diasporas in Ukraine, Kazakhstan, and Belarus. This historical legacy has often been a source of tension between Russia and its neighbors. "Support for the rights of compatriots abroad is a crucial goal," Russian President Vladimir Putin said in his April 2005 state-of-the-nation address. "It cannot be subject to a diplomatic or political bargaining. Those who do not respect, observe, or ensure human rights have no right to demand that human rights be respected by others."
ARCHIVE
To view a complete archive of RFE/RL's coverage of Russia, click here.
To subscribe to "RFE/RL's Russia Report," click here .