Iraqi President Says Al-Sadr Backs Security Plan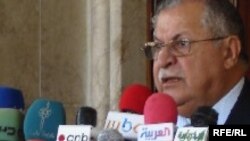 President Jalal Talabani (file photo) (RFE/RL) February 16, 2007 -- Iraqi President Jalal Talabani says radical Shi'ite cleric Muqtada al-Sadr is believed to have ordered senior officials of his Imam al-Mahdi Army militia to leave Iraq.
Talabani said he believes al-Sadr supports new security operations launched in Iraq this week, and told his officials to leave the country in order to facilitate the security plan.
The comments on February 15 came amid speculation that al-Sadr himself was in Iran.
Talabani said he had no information on al-Sadr's whereabouts.
Meanwhile, reports say the leader of Al-Qaeda in Iraq -- Abu Ayyub al-Masri -- was wounded in a clash north of Baghdad.
The AP news agency and Al-Arabiya Television quote the Iraqi Interior Ministry as saying an aide to al-Masri was killed in the clash near Balad, a major U.S. base about 80 kilometers north of Baghdad.
The U.S. military had no information on the report.
(Reuters, AFP, AP)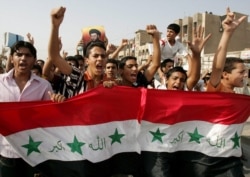 Al-Sadr supporters demonstrating against the U.S. presence in Iraq in October 2006 (epa)

A RADICAL CLERIC. Shi'ite cleric Muqtada al-Sadr is a key figure in Iraq. He heads the Imam Al-Mahdi Army militia and a political bloc that is prominent in parliament and the government. His ties to Iran have also provoked concerns in some quarters.
RELATED ARTICLES
Cracking Down On Al-Sadr No Easy Task
Political Parties Consider Uniting Against Al-Sadr
Is Al-Sadr Stirring The Pot Or Promoting Peace?
Radical Shi'ite Cleric Calls For Shi'ite-Sunni Unity
Al-Sadr Reasserts Himself -- This Time Against Coreligionists