A day after senators from President George W. Bush's Republican Party blocked a symbolic Senate resolution opposing the new U.S. troop buildup in Iraq, Democrats on February 18 suggested they may now try to revise Congress' 2002 measure authorizing the use of force in Iraq.
"I think, probably, the best approach would be to modify the authorization to the president to go to war in Iraq," the Democratic chairman of the Senate Armed Services Committee, Senator Carl Levin (Michigan) said in an interview with U.S. television on February 18. "That was a wide-open authorization, which allowed him to do just about anything and put us now deep into combat in Iraq and now into the neighborhoods of Baghdad. We -- I think we'll be looking at a modification of that authorization in order to limit the mission of American troops to a support mission instead of a combat mission. And that is very different from cutting off funds."
Republicans have indicated they will likely oppose any such effort by the Democratic majority in Congress.
(compiled from agency reports)
The International Coalition In Iraq
The International Coalition In Iraq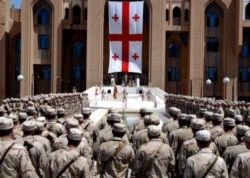 Georgian soldiers marking Georgian Independence Day in Baghdad on June 6 (epa)
COALITION MEMBERS: In addition to the United States, 28 countries are Multi-National Force-Iraq (MNF-I) contributors as of May 31, 2006: Albania, Armenia, Australia, Azerbaijan, Bosnia-Herzegovina, Bulgaria, the Czech Republic, Denmark, El Salvador, Estonia, Georgia, Italy, Japan, Kazakhstan, Latvia, Lithuania, Macedonia, Moldova, Mongolia, the Netherlands, Poland, Portugal, Romania, Singapore, Slovakia, South Korea, Ukraine, and the United Kingdom. Fiji is participating as part of the UN mission in Iraq. Hungary, Iceland, Slovenia, and Turkey are NATO countries supporting Iraqi stability operations but are not part of MNF-I.
NON-U.S. MILITARY PERSONNEL IN IRAQ: United Kingdom, 8,000 as of May 26, 2006; South Korea, 3,237 as of May 9, 2006; Italy, 2,900 as of April 27, 2006; Poland, 900 as of May 30, 2006; Australia, 900 as of March 28, 2006; Georgia, 900 as of March 24, 2006; Romania, 860 as of April 27, 2006; Japan, 600 as of May 30, 2006; Denmark, 530 as of May 23, 2006; All others, 1,140.
(Source: The Washington-based Brooking Institution's Iraq Index of June 15, 2006)


THE COMPLETE STORY: RFE/RL's complete coverage of events in Iraq and that country's ongoing transition.
RADIO FREE IRAQ: To visit the Arab-language website of RFE/RL's Radio Free Iraq, click here.