Five Killed In Iraq Chlorine-Gas Explosion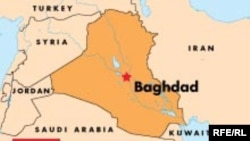 (RFE/RL) February 20, 2007 -- At least five people were killed and more than 100 were hospitalized when a truck carrying chlorine gas exploded in the Iraqi town of Al-Taji.
Many of the people hospitalized were sickened by the release of toxic gas.
It was not clear whether the explosion was accidental or caused by a bombing.
In the latest spate of bombings and other attacks, more than 40 Iraqis and five U.S. soldiers were killed on February 19.
(Reuters, AP, AFP)