Steinmeier spoke in Yerevan after talks with Armenian Foreign Minister Vardan Oskanian.
"We have talked about the well-known problem of Nagorno-Karabakh, and I hope that on the basis of the documents which have been produced over the past couple of months, results will be reached within this year that will lead to a lasting understanding in the region," Steinmeier said.
The predominantly ethnic-Armenian region of Nagorno-Karabakh lies inside Azerbaijan's borders.
Steinmeier also discussed Armenia's relations with Turkey.
He said there are still many unresolved issues between the countries including closed border crossings.
In an interview published February 19, Armenian President Robert Kocharian said Yerevan was ready to establish diplomatic ties with Turkey without preconditions.
Steinmeier was in Yerevan today at the end of a three-country trip to the south Caucasus region.
He also visited Georgia and Azerbaijan.
(with material from dpa)

Unknown Victims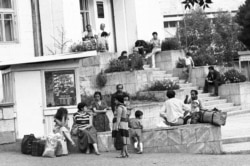 Ethnic Armenians displaced by fighting in Nagorno-Karabakh in the 1980s (Photolur)
HOW MANY MISSING? Well over a decade after conflicts in the South Caucasus froze, the International Committee of the Red Cross says new cases of missing people continue to emerge. Significant progress will, it fears, have to wait for final peace agreements.
Ethnic conflicts in the 1990s claimed tens of thousands of lives in the South Caucasus. Some 15 years later, many families are still searching for information about relatives who disappeared without a trace in the fighting.... (more)
RELATED ARTICLES
Frozen Conflicts Show Little Sign Of Thaw

South Caucasus Countries Discuss 'Frozen Conflicts,' Closer Ties
ARCHIVE
Click here to view archives of RFE/RL's coverage of the conflicts in Abkhazia, Chechnya, Kosovo, Nagorno-Karabakh, Ossetia, and Transdniester.

Click on the icon to view images of the Nagorno-Karabakh conflict (Flash required)