Consequently, despite a pronounced and dramatic spike in the defense budget, which is projected to surpass $1 billion this year, the Azerbaijani military remains hostage to earlier sporadic, haphazard, and incomplete efforts at modernization and reform.
Turkey looks set to resume a direct role in reforming Azerbaijan's armed forces.


Yet there are recent signs that the Azerbaijani government has finally resolved to implement an assertive and ambitious effort aimed at forging a new and robust military.
The first such sign was the decision to create a modern defense industry. Established back in 2005 by presidential decree, the new Defense Industries Ministry, headed by Yavar Jamalov, incorporated the State Departments for Military Industry and for Armaments and the Military Science Center, each of which was formerly a separate agency within the Azerbaijani Defense Ministry. It is endowed with between $60-70 million in state funding, and has emerged as an autonomous entity with a growing defense production capability. The new ministry is cooperating with the defense sectors of Ukraine and Pakistan.

Turkish Appointment
Recent reports in both the Turkish and Azerbaijani press of the imminent appointment of a senior Turkish military officer to a post within the Azerbaijani Defense Ministry constitute further proof that Baku is getting serious about upgrading its armed forces.
According to the Turkish daily zaman.com on January 8, senior Turkish military leaders are said to have selected an unnamed Turkish Army general to assume the position of a deputy minister within the Azerbaijani Defense Ministry, reportedly as the first part of a formal program to last through 2011. That Turkish general would reportedly be granted significant and sweeping powers and authority within the Azerbaijani Defense Ministry, including direct and sole control over a team of lower-ranking Turkish military officers serving as military instructors and advisers.

The plan constitutes a restoration of a direct Turkish military role in Azerbaijan, marking a reversal of the deterioration in Azerbaijani-Turkish military ties over the past few years and a return of Turkish military advisers following their departure from Baku in 1995. It also serves to reaffirm Baku's strategic orientation towards Western security structures in general, and NATO in particular.

The Azerbaijani move seems patterned on the experience of Lithuania's defense reform, the successful implementation of which paved the way for that country's eventual accession to NATO.
The onset of a new and sincere effort at defense reform under Turkish patronage could be followed by the dismissal of the current defense minister.
Under the Lithuanian model, a retired U.S. officer, Colonel Ionas Kronkaytis, was appointed as chief of staff in 2002 and granted the authority to oversee and direct military reform through 2003.
The Azerbaijani plan is even more realistic, as it would be both bolstered by the country's earlier military relationship with Turkey and stands a greater chance of success, insofar as the ultimate objective is revamping the armed forces, rather than full NATO membership.

Possible Ministry Changes
But there is also a second significant aspect to such a scenario. The resumption of a Turkish role in reforming, and enhancing the professionalization of, the largely underdeveloped Azerbaijani armed forces could herald the departure of Azerbaijani Defense Minister Colonel General Safar Abiyev. The longest-serving defense minister in the entire Commonwealth of Independent States, Abiyev has been repeatedly subjected to criticism for his imputed tolerance of endemic corruption within the military.

And he owes his survival more to his personal loyalty to the president than to any credible military competence, given that his tenure as defense chief has been defined by a long period of neglect, underinvestment, and marginalization of the Azerbaijani armed forces. It is thus logical to assume that the onset of a new and sincere effort at defense reform under Turkish patronage will be followed by the dismissal of the current defense minister.

True, rumors of his impending dismissal have surfaced several times in the past, but it now seems inevitable that Abiyev will either soon retire, or possibly be shifted to another post. According to the online daily echo-az.com on December 28, Abiyev's successor will be a civilian, and the respective functions of the Defense Ministry and the General Staff will be clearly delineated.

Karabakh Conflict
On one level, Baku's renewed commitment to developing a more formidable military capability seem in accordance with its long record of aggressive and bellicose threats to resort to military action in the event that ongoing efforts to mediate a peaceful political solution of the Nagorno-Karabakh conflict fail.
But that commitment should also be seen in the broader regional context, specifically, of a larger shift in the overall balance of power in the South Caucasus, as Georgia too seeks to raise the effectiveness of its armed forces to comply with NATO standards as part of its bid for NATO membership.

In the short term, however, the key question raised by Baku's new determination to enhance its military potential is the possible political impact of a powerful new military within the national context, as the Azerbaijani political elite has long equated domestic stability with the absence of any perceived threat emanating from its armed forces. In this respect, the Azerbaijani Army was long seen by former Azerbaijani strongman Heidar Aliyev as the sole viable threat to his authority.

It remains to be seen whether his son and successor, President Ilham Aliyev, has miscalculated in possibly giving the military both power and a platform, especially given the Turkish record of repeated military intervention in domestic politics since 1960.
The danger, however remote it may seem at present, of a new powerful politicization of a resurgent Azerbaijani military, has until now not been a factor when assessing the prospects for security and stability in Azerbaijan.
The Nagorno-Karabakh Conflict
The Nagorno-Karabakh Conflict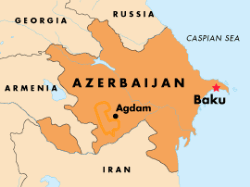 Click on the image to view an enlarged map of the Nagorno-Karabakh conflict zone

In February 1988, the local assembly in Stepanakert, the local capital of the Azerbaijani region of NAGORNO-KARABAKH, passed a resolution calling for unification of the predominantly ethnic-Armenian region with Armenia. There were reports of violence against local Azeris, followed by attacks against Armenians in the Azerbaijani city of Sumgait. In 1991-92, Azerbaijani forces launched an offensive against separatist forces in Nagorno-Karabakh, but the Armenians counterattacked and by 1993-94 had seized almost all of the region, as well as vast areas around it. About 600,000 Azeris were displaced and as many as 25,000 people were killed before a Russian-brokered cease-fire was imposed in May 1994.
CHRONOLOGY: For an annotated timeline of the fighting around Nagorno-Karabakh in 1988-94 and the long search for a permanent settlement to the conflict, click here.

Click on the icon to view images of the Nagorno-Karabakh conflict (Flash required)
To view an archive of all of RFE/RL's coverage of Nagorno-Karabakh,
click here.