The statement came from the Minsk Group, which was founded by the Organization for Security and Cooperation in Europe (OSCE) and is co-chaired by Russia, France, and the United States.
But in an interview published today by the French daily "Le Monde," Azerbaijani President Ilham Aliyev said he doesn't rule out military means to solve the dispute.
The predominantly ethnic-Armenian enclave seceded from Soviet Azerbaijan in 1988, triggering a war that claimed some 30,000 lives.
The region has been under dispute since the conflict ended in 1994 with a shaky cease-fire.
(Reuters, AFP)
The Nagorno-Karabakh Conflict
The Nagorno-Karabakh Conflict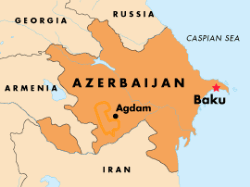 Click on the image to view an enlarged map of the Nagorno-Karabakh conflict zone

In February 1988, the local assembly in Stepanakert, the local capital of the Azerbaijani region of NAGORNO-KARABAKH, passed a resolution calling for unification of the predominantly ethnic-Armenian region with Armenia. There were reports of violence against local Azeris, followed by attacks against Armenians in the Azerbaijani city of Sumgait. In 1991-92, Azerbaijani forces launched an offensive against separatist forces in Nagorno-Karabakh, but the Armenians counterattacked and by 1993-94 had seized almost all of the region, as well as vast areas around it. About 600,000 Azeris were displaced and as many as 25,000 people were killed before a Russian-brokered cease-fire was imposed in May 1994.
CHRONOLOGY: For an annotated timeline of the fighting around Nagorno-Karabakh in 1988-94 and the long search for a permanent settlement to the conflict, click here.

Click on the icon to view images of the Nagorno-Karabakh conflict (Flash required)
To view an archive of all of RFE/RL's coverage of Nagorno-Karabakh,
click here.