The chief UN envoy on Kosovo, Martti Ahtisaari, however, said on February 20 he is "pessimistic" the two sides will be able to agree on a compromise solution.
Nonetheless, the "technical talks" in Vienna are due to continue into March.
Since they started negotiations on Kosovo's future status under the auspices of the UN and the international Contact Group a year ago, the two sides have moved no closer together.
MORE: In December, RFE/RL spoke with the head of the UN Kosovo mission,
Joachim Ruecker
.
Belgrade has offered broad autonomy to the province, but continues to reject independence. Kosovo's leaders, meanwhile, will accept nothing less.
A Compromise Solution
Ahtisaari's compromise solution , which he unveiled at the start of the month, would try to split the difference by giving Kosovo many of the attributes of a sovereign state -- while stopping short of full independence.
Under the former Finnish president's plan, Kosovo would gain the right to enter into international agreements and join international organizations. It would be allowed such national symbols as a flag, an anthem, a lightly armed security force, and its own border guards.
Ethnic Serbs -- who make up less than 10 percent of the local population -- would enjoy special protection. And an internationally appointed supervisor would have the power to veto legislation and dismiss local officials.
Veton Surroi, the ethnic-Albanian leader heading Kosovo's delegation, said his team would not seek any major changes to Ahtisaari's plan in the final round of talks.
Surroi urged his people to have patience, telling them he shared their dissatisfaction with the slow pace of negotiations. But Surroi assured them he believed their long-sought goal of an independent Kosovo is near.
"We have been unsatisfied for many years, but what we require and what we would want from our people is to have patience in these last few laps of this marathon," Surroi said. "We believe Kosovo will be an independent state. We have come here with that conviction, and we will go back with that conviction."
Chief Serbian negotiator Slobodan Samardzic said his delegation would present "alternative proposals" to the draft.
He said Belgrade is not completely against Ahtisaari's plan, but remains firmly opposed to independence for Kosovo.
"[We reject] only the provisions that violate [the] sovereignty and territorial integrity of Serbia," Samardzic said.
Ahtisaari has said he is ready to amend his proposal but not to fundamentally change it.
If the two sides cannot agree on their own compromise at the Vienna talks, Ahtisaari is likely to send his proposal to the UN Security Council for approval at the end of next month.
Russia, which has veto power on the Security Council, has repeatedly warned it will not support an imposed solution that Serbia does not accept.
Universal Principles?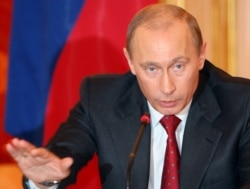 President Putin at a Kremlin meeting in April (epa)
PUTIN SPEAKS OUT: During a January press conference, Russian President Vladimir Putin said there is a need for "universal principles" to settle "frozen" conflicts in the CIS. His comments came against the background of impending talks on the future status of Kosovo, which many predict will grant it a form of "conditional independence" from Serbia and Montenegro. As an ally of Serbia, Moscow has consistently opposed the idea of Kosovar independence. Putin's remarks suggest he may be shifting his position, but only if the principles applied to Kosovo are also applied to frozen conflicts in the former Soviet Union. If Kosovo can be granted full independence, he asked, why should we deny the same to Abkhazia and South Ossetia? (more)
RELATED ARTICLES
Putin Calls For 'Universal Principles' To Settle Frozen Conflicts
Russia Key To OSCE's Attempts To Resolve Frozen Conflicts
Georgia Pushes For EU Backing In Standoffs With Russia
ARCHIVE
Click here to view archives of RFE/RL's coverage of the conflicts in Abkhazia, Chechnya, Kosovo, Nagorno-Karabakh, Ossetia, and Transdniester.