Blair is expected to make the announcement today.
The unconfirmed reports from news outlets including the BBC and "The Sun" newspaper on February 20 said Blair is expected to tell the British parliament that about 1,500 British troops could start to leave Iraq in the coming weeks.
The reports say an additional 1,500 British troops could be withdrawn by the end of this year, if security conditions permit.
Britain currently has some 7,100 troops in Iraq.
A spokesman for the White House National Security Council, Gordon Johndroe, said U.S. President George W. Bush views the British pullout as a "sign of success" in stabilizing Iraq.
Johndroe said Washington is pleased that conditions have improved sufficiently in the southern city of Al-Basrah to allow British forces to transfer more security control to Iraqis.
Meanwhile, Denmark is also expected to announce a timetable for the withdrawal of its 470 troops from Iraq, according to Danish media.
Australian Prime Minister John Howard said the British withdrawal does not mean Australia will reduce its 550 troops in Iraq.
(news.bbc.co.uk, AP, AFP)
The International Coalition In Iraq
The International Coalition In Iraq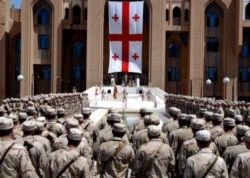 Georgian soldiers marking Georgian Independence Day in Baghdad on June 6 (epa)
COALITION MEMBERS: In addition to the United States, 28 countries are Multi-National Force-Iraq (MNF-I) contributors as of May 31, 2006: Albania, Armenia, Australia, Azerbaijan, Bosnia-Herzegovina, Bulgaria, the Czech Republic, Denmark, El Salvador, Estonia, Georgia, Italy, Japan, Kazakhstan, Latvia, Lithuania, Macedonia, Moldova, Mongolia, the Netherlands, Poland, Portugal, Romania, Singapore, Slovakia, South Korea, Ukraine, and the United Kingdom. Fiji is participating as part of the UN mission in Iraq. Hungary, Iceland, Slovenia, and Turkey are NATO countries supporting Iraqi stability operations but are not part of MNF-I.
NON-U.S. MILITARY PERSONNEL IN IRAQ: United Kingdom, 8,000 as of May 26, 2006; South Korea, 3,237 as of May 9, 2006; Italy, 2,900 as of April 27, 2006; Poland, 900 as of May 30, 2006; Australia, 900 as of March 28, 2006; Georgia, 900 as of March 24, 2006; Romania, 860 as of April 27, 2006; Japan, 600 as of May 30, 2006; Denmark, 530 as of May 23, 2006; All others, 1,140.
(Source: The Washington-based Brooking Institution's Iraq Index of June 15, 2006)


THE COMPLETE STORY: RFE/RL's complete coverage of events in Iraq and that country's ongoing transition.
RADIO FREE IRAQ: To visit the Arab-language website of RFE/RL's Radio Free Iraq, click here.