Admiral William Fallon told his Senate confirmation hearing in Washington today that the United States had probably erred in its assessment of the Iraqi government's ability to rebuild its society after the overthrow of Saddam Hussein nearly four years ago.
Fallon said he saw a need for a comprehensive approach to Iraq, including economic and political actions to resolve a problem that requires more than military force.
Fallon also said the United States may have to lower expectations for Iraq as it embarks on a new war plan.
"Maybe we ought to redefine the goals here at bit and do something that's more realistic in terms of getting some progress, and then maybe take on the other things later," Fallon said.
The admiral also said he did not know how many extra troops would be needed in Iraq to successfully implement the new strategy President George W. Bush announced on January 10.
Bush approved the deployment of an additional 21,500 U.S. troops between now and May.
Moscow Calls For Withdrawal Timetable
Shortly after Fallon spoke, the head of the Russian Security Council, Igor Ivanov, called for a timetable for the withdrawal for foreign troops from Iraq, describing the situation there as "intolerable."
Ivanov said in Moscow that talks needed to start with Iraq on the withdrawal of the occupying forces and the transfer of power to the Iraqi people.
The United States has refused to give a timetable for the withdrawal of its forces.
(Reuters, AFP, AP)
On The Verge Of Civil War
On The Verge Of Civil War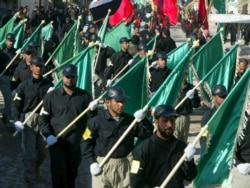 The Imam Al-Mahdi Army on parade (epa)
HAS THE CONFLICT IN IRAQ BECOME A CIVIL WAR? Many observers have concluded that the tit-for-tat sectarian violence that emerged after the February 2006 bombing of a mosque in Samarra has become a full-blown civil war.... (more)


RELATED ARTICLES
U.S. Media Starts Using 'Civil War' Label
Iraqi Prime Minister Under Fire From All Sides
U.S. Expert Discusses Prospects For Stabilization
President Says Iraq Needs Iran's Help
Saudi Arabia To Seal Off Border With Security Fence

THE COMPLETE PICTURE:
Click on the image to view RFE/RL's complete coverage of events in Iraq and that country's ongoing transition.