The report -- by IAEA chief Muhammad el-Baradei -- confirmed an open secret: that Iran has expanded its uranium-enrichment program instead of halting it. The report says that Iran has installed two cascades with many dozens of centrifuges in its underground Natanz enrichment plant and another two cascades that are close to completion.
The UN's 60-day deadline expired on February 21, and Iran has said it will continue its nuclear activities. The UN has warned, however, that it would take "further appropriate measures" if Iran refuses to comply and stop enrichment activities.

The report will be sent to the IAEA's 35-nation board of governors as well as to the UN Security Council. Then the five permanent members of the Security Council (Britain, France, China, Russia, and the United States) plus Germany will start consulting on the next steps to increase pressure on Tehran.

Much of the international community is suspicious that Tehran is seeking to secretly develop nuclear weapons. Therefore, they aim to curb Iran's nuclear program, in particular its enrichment of uranium. The result of that process can be used both for civilian and military nuclear programs.

Iran says its nuclear activities are strictly for peaceful purposes. Iranian officials have said they are ready to provide guarantees that they are not pursuing nuclear weapons as part of negotiations. But Tehran has rejected preconditions.

New Economic Sanctions

Mark Fitzpatrick, a senior nonproliferation expert at the London-based International Institute For Strategic Studies, says that Iran is now exposed to having broader sanctions made against it.


"The Security Council will begin to discuss another set of sanctions," Fitzpatrick said. "In the last resolution of December 23, the Security Council said very explicitly that if Iran did not meet the 60-day deadline that the Security Council would take up additional measures under Chapter 41, these are economic sanction measures."
In December, the UN Security Council unanimously adopted limited sanctions on Iran. The resolution was approved following weeks of debate, reportedly due to objections by Russia and China, which can veto any proposal brought to the Security Council. Both countries are engaged in commercial dealings with Iran and they have called for diplomacy in the nuclear standoff.
Russian, Chinese Objections
A senior nonproliferation expert at the Stockholm International Peace Institute, Shannon Kile, is skeptical of Security Council members being able to agree on stricter sanctions because of possible resistance from Beijing and Moscow.
"In part for commercial reasons and in part for strategic reasons [Russia and China are] not going to be willing to go along with a set of sanctions, which would be genuinely punitive in nature as opposed to sanctions that were passed as part of [Security Council Resolution] 1737, which were really more aimed at denying Iran the ability to get a certain capability for its nuclear and ballistic-missile programs," Kile says.
Fitzpatrick says that the follow-through on this issue is likely to be slow and painful. Yet he believes Russia and China would be willing to accept additional sanctions against Iran.
"They will not be interested in applying sanctions that could affect their own strategic or commercial relationships with Iran, but they also have an important strategic relationship with the United States and Europe and they want to be part of the solution, they want to be international players," he says.
In recent months, pressure outside the Security Council has also increased on Iran. The United States has sought to isolate Iranian banks, including Bank Saderat, for its alleged involvement in financing terrorist groups. A number of European banks, such as Credit Suisse, have also curtailed their activities with Iran and Iranian firms. Analysts expect additional de facto sanctions such as these to increase.
Continued Diplomacy
Yet despite the increasing pressure, Iran has remained defiant and refused to suspend any of its sensitive nuclear activities. Supreme Leader Ayatollah Ali Khamenei, who has the final word on all issues in Iran, said in January that Iran will not abandon its right to nuclear technology and that Iranian officials have no right to deprive the nation of this right.
Kile says that it is difficult to predict what's going to happen next in the nuclear standoff. "Obviously, at one end of the spectrum we do have the prospect of military action being taken -- perhaps by the United States, perhaps by Israel -- if Iran would be seen as closing in on the capability to actually produce a nuclear weapon," Kile says. "I think there is still time for diplomacy; I think that Iran won't have that capability until 2009 [or] 2010 at the earliest."
The administration of U.S. President George W. Bush has said all options are on the table when it comes to dealing with Iran's nuclear program, but he and top U.S. officials have said they remain committed to diplomacy.
On February 21, German officials said they are not giving up hope for a return to talks with Iran but added that it is up to Iran to signal that it is sincere in wanting negotiations.
In London, Fitzpatrick says he expects heightened diplomacy from both sides in the coming weeks. "There have been some hints from Iran about some willingness to accept suspension [of nuclear activities] under certain conditions and we see on the other hand the United States with the deal agreed to with North Korea, a new flexibility to talk with countries that are considered the enemy," he notes.
The UN report comes as concerns inside Iran about the costs of a confrontation with the West are increasing. Earlier this week, a reformist party in Iran urged the government to accept a UN demand for a halt to sensitive nuclear work to prevent the adoption of new UN resolutions against the country.
Afraid Of Sanctions?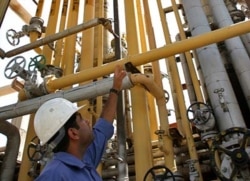 Comprehensive sanctions could further slow development in Iran's strategic oil and gas sectors (Fars)
WHAT DOES TEHRAN REALLY THINK? On August 22, Radio Farda correspondent Fatemeh Aman spoke with Alex Vatanka, Eurasia editor for Jane's Information Group, by telephone from Alexandria, Virginia. Vatanka discussed the possible impact that comprehensive sanctions could have for Iran.
Radio Farda: Some Iranian authorities are trying to create the impression that they aren't concerned about the possibility of international sanctions against it. They emphasize that what Iran has achieved so far has happened despite the sanctions already in place against it. Are they really not afraid of sanctions?
Vatanka: I think that what the Iranians are trying to do is to continue to play this balancing act. On the one hand, they are trying to say, "Look, we have done without you for 27 years; we can continue." On the other hand, if you look at every other major Iranian overture toward the U.S., obviously what they are hoping to do is remove those sanctions. It is the sanctions that have been the biggest obstacle to a genuine expansion in the Iranian economy. It is the sanctions and U.S. policies vis-a-vis Iran that have, for instance, kept Iran from joining the World Bank. It is sanctions and so on that have made the Iranian oil industry have such a tough time in bringing investment into the strategic oil and gas sectors. People like [former Iranian President Ali Akbar Hashemi-]Rafsanjani back in the mid 1990s even kept certain fields untouched because the idea was that U.S. companies should have those once the sanctions were lifted.
I think sanctions are quite important to the Iranians, but at the same time what they are trying to say is, "Don't assume that we are going to fall off our chair just because you mentioned the sanctions card." It is part of a kind diplomatic chess game going on by Tehran. But remember if we look and listen to Iranian reformists, this is being openly debated inside Iran. The question that is being asked of [President Mahmud Ahmadinejad and his entourage] is, "What is the ultimate objective?" Is it just Islamic independence? Is it just the ability to enrich uranium? The debate in Iran by the reformists -- and I think a lot of people would sympathize with this -- is, "What are we being sanctioned for exactly and what policies do you have to make sure that those sanctions don't hit us harder than we have already been hit?"
Remember, the big issue here is this: Iran has been sanctioned by the U.S. Iran has never faced comprehensive United Nations sanctions. The Iranian people have never suffered on a scale that the Iraqi people, for instance, suffered because of such sanctions. So it is kind of disingenuous of these senior leaders to pretend that Iran has already gone through comprehensive sanctions. Iran has not. And it will be totally different set of circumstances that will have a totally different impact on Iranian society and the economy, should the UN impose comprehensive sanctions on the country.


THE COMPLETE PICTURE: RFE/RL's complete coverage of controversy surrounding Iran's nuclear program.
CHRONOLOGY
An
annotated timeline
of Iran's nuclear program.