Cheney made his remarks in Sydney, Australia, where he had talks with Prime Minister John Howard.
Cheney said it would be a serious mistake if Iran were allowed to become a nuclear power.
Cheney said that though diplomatic efforts are under way, "all options are on the table."
"We've worked with the European community and through the United Nations to put in place a set of policies to persuade the Iranians to give up their aspirations and to resolve the matter peacefully, that's still our preference," Cheney said. "But I've also made the point, the president has made the point that all options are still on the table."
At a joint news conference with Howard, Cheney reiterated Washington's concerns about Tehran's actions and what he described as "rather inflammatory statements" by Iranian officials.
Cheney's tough comments today came one day after Secretary of State Condoleezza Rice voiced her willingness to meet the Iranians any place to talk about anything -- but only after Tehran agrees to halt sensitive nuclear activities.
IAEA Report
The UN nuclear agency, the IAEA, concluded in a report this week that Iran was expanding, rather than halting its uranium enrichment operations as the UN Security Council demanded.
Iran insists it is not seeking nuclear weapons and says the UN demands are unacceptable because they have no legal basis.
Speaking before the Security Council on February 23, Iranian Ambassador to the UN Javad Zarif said that the council should not undermine the UN Charter and existing multilateral treaties on weapons of mass destruction.
He said Iran did everything to dispel suspicions about its nuclear program.
"In order to dispel any doubt about our peaceful nuclear program we have enabled the IAEA to carry out a series of inspections that amount to the most robust inspection of any IAEA members," Zarif said.
"All reports by the IAEA since 2003 have been indicative of the peaceful nature of the Iranian nuclear program and the agency has repeatedly reaffirmed that it has not seen any diversion of nuclear material to nuclear weapons or other nuclear explosive devices in Iran's peaceful nuclear program."
Next week the five permanent members of the Security Council, along with Germany, will meet in London to discuss other possible steps to make Iran halts its nuclear activities.
In December, the Security Council banned transfers of atomic technology and know-how to Iran.
(Compiled from agency reports)
Who's Got The Bomb?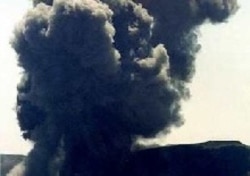 DECLARED NUCLEAR-WEAPONS COUNTRIES:
country warheads (est.) date of first test
United States 10,500 1945
Russia 18,000 1949
United Kingdom 200 1952
France 350 1960
China 400 1964
India 60-90 1974
Pakistan 28-48 1998
North Korea 0-18 2006
Notes:
Israel is widely believed to possess nuclear weapons, but it has not declared itself a nuclear-armed country.
South Africa constructed six uranium bombs but voluntarily dismantled them.
Belarus, Kazakhstan, and Ukraine all gave up the nuclear weapons that were on their territory when the Soviet Union collapsed in 1991.