The International Court of Justice (ICJ) said Serbia should have made efforts to halt massacres in Bosnia, and said the killing of nearly 8,000 Muslims by Bosnian Serbs in Srebrenica amounted to genocide -- the first time the ICJ has called an event genocide.
However, The Hague-based court said that Bosnian Serb forces operated with a degree of independence from Belgrade, and that the Srebrenica killings "cannot be attributable" to Serbia.
Bosnia had accused Yugoslavia of genocide and demanded financial compensation, but the court said Belgrade would not have to pay reparations.
Earlier, Judge Roslyn Higgins said Montenegro is no longer part of the case because Serbia alone had assumed the "legal identity" of the former Yugoslavia.
The ruling comes with Serbia still facing challenges linked to the break-up of the former Yugoslavia.
Closer ties with the European Union have been frozen over Belgrade's failure to hand over war crimes suspects for trial.
Serbia also faces final talks with the United Nations on the future of Kosovo, with the province heading toward near-statehood despite Serbian opposition.
(compiled from agency reports)
Srebrenica Remembered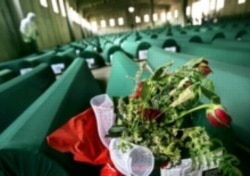 Coffins of Srebrenica victims being prepared for burial in October (AFP)

THE WORST ATROCITY IN EUROPE SINCE WORLD WAR II: The July 1995 massacre of some 7,000 Muslim men and boys by Bosnian Serb fighters near the UN-designated safe haven of Srebrenica is the worst atrocity of its kind in Europe since the end of World War II. Since the incident, the name Srebrenica has become practically synonomous with ethnic cleansing....(more)
See also:
Coming To Grips With The UN's Failure At Srebrenica
Child Of Srebrenica Returns Home For Anniversary Of Massacre