The military reported finding a cache of weapons during a raid by U.S. forces and Iraqi police on February 24 near Ba'qubah, north of Baghdad. The weapons included mortar bombs, rockets, and components to build sophisticated roadside bombs.
Russian Foreign Minister Sergei Lavrov said today he is worried about growing speculation of a U.S.-led military strike on Iran. The Interfax news agency today quoted Lavrov as making the remark during a meeting with Russian President Vladimir Putin.
U.S. Vice President Dick Cheney said on February 24 that "all options are on the table" following Iran's refusal to meet a United Nations deadline for halting uranium enrichment.
Meanwhile, a bomb exploded in Iraq's Public Works Ministry today during a visit by Vice President Adil Abd al-Mahdi.
Ministry employees said the vice president was unhurt, but at least four people were reported killed.
The bombing comes after a deadly suicide attack on a college campus in eastern Baghdad that killed at least 40 people on February 25.
(Reuters, AFP)
On The Verge Of Civil War
On The Verge Of Civil War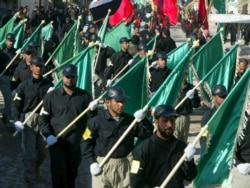 The Imam Al-Mahdi Army on parade (epa)
HAS THE CONFLICT IN IRAQ BECOME A CIVIL WAR? Many observers have concluded that the tit-for-tat sectarian violence that emerged after the February 2006 bombing of a mosque in Samarra has become a full-blown civil war.... (more)


RELATED ARTICLES
U.S. Media Starts Using 'Civil War' Label
Iraqi Prime Minister Under Fire From All Sides
U.S. Expert Discusses Prospects For Stabilization
President Says Iraq Needs Iran's Help
Saudi Arabia To Seal Off Border With Security Fence

THE COMPLETE PICTURE:
Click on the image to view RFE/RL's complete coverage of events in Iraq and that country's ongoing transition.