From India to Belarus, from Kyrgyzstan to Brazil, the annual festival offers a chance to catch little-seen documentaries on political and social issues across the world.
One such film, "Three Comrades," tells the story of three young men whose lives, like tens of thousands of others in Chechnya, were shattered by the war waged by Moscow on Chechen separatists.
The film shows footage of Grozny in the early 1990s. Three friends -- Ruslan, Ramzan, and Islam -- are seen driving through the streets of the Chechen capital, listening to loud rock music on their car radio.
In voice-over, Islam Bashirov, speaking in the present, remembers that time of his youth. "Fifteen years ago, we never would've believed that this would be our story," he says in Russian. "Ruslan, Ramzan, me. Together we were one."
"Some girls said that after a while I'd get used to it... I got used to it all right, to alcohol, to this."
-- Tatyana, Russian trafficking victim
A few months after that carefree ride through Grozny, the first Chechen war breaks out.
Ruslan is arrested and executed by Russian soldiers. Then Ramzan is killed in an air strike on the city.
Only one, Bashirov, flees Chechnya and survives.
Mankind's "Big Challenges"
The weeklong One World Festival, held annually in the Czech capital since 1999, brings together little-seen documentaries like "Three Comrades" that examine political and social issues across the world.
"The aim of the festival is to bring a more complex picture, understanding, of what's happening on the international arena, of the main issues of our times, the political and social issues, the big challenges of mankind," says Igor Blazevic, the festival director.
"We are trying to get people to re-think what they see on the news every day or to see those things they do not see on the news. We want to make them become active citizens."
One World, which runs in Prague cinemas from February 28 to March 8, will show 123 films from 34 countries.
While the festival hopes to attract a broad audience, One World, Blazevic says, targets mainly young people -- "basically the new generation, those who are looking for their values, for their places in a globalized world, for private or generational answers to what role they are playing in the world today."
The festival explores a series of armed conflicts, both current and past, and the legacies they have left.
One of the documentary films, "A Story of People in War and Peace," tells the story of Vardan Hovhannisian. The camera follows this Armenian journalist as he tries to come to terms with his four years fighting against Azerbaijani troops over the disputed enclave of Nagorno-Karabakh, in the early 1990s.
"The war changed my life. It changed all our lives in Armenia," Hovhannisian says to the camera. "Struggle, suffering, pain. I've enjoyed 12 years of peace. I'm married with two beautiful children. Life is so wonderful, and I don't want to look back. But once, my young son came up to me. He asked me: 'Daddy, have you been a soldier?' And I don't know what to say."
Global Issues, Local Stories
One World puts a human face on a wide range of hot-button topics, from the spread of HIV, to ethnic tensions in Myanmar, ongoing violence between Catholics and Protestants in Northern Ireland, the life of Chornobyl victims, child rape in South Africa, or the treatment of prisoners at the U.S. Guantanamo naval base.
Trafficking of women is also high on the festival's agenda this year. In "Fallen Angel," a Russian girl, Tatyana, recalls how she was forced into prostitution in the Netherlands after her boyfriend sold her to a pimp.
"Some girls said that after a while I'd get used to it. 'A week or so, and you'll get used to all that,'" Tatyana says. "I got used to it all right, to alcohol, to this. I wish I could turn back time and that I'd never come to the Netherlands."
After some time, Tatyana found the strength to stand up to the abuse and sought help. But instead of finding salvation, she became entangled in a legal process that left her with vulnerable to a criminal gang with no protection from the Dutch authorities.
Above all others, the main topic this year is political freedom. A number of films are being presented under a special section called "Democracy Report."
Festival director Blazevic says the films on this topic are not limited to countries ruled by authoritarian regimes.
"We have films from countries like Azerbaijan, Belarus, Afghanistan, where people are still striving to achieve democracy," he says. "But we also have films questioning the quality of democracy in countries like the United States, the Czech Republic, and Poland."

A Bright Spot In A Dark Place
A Bright Spot In A Dark Place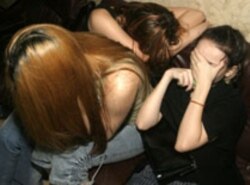 Uzbek women detained in a sweep by police in Jakarta in 2004 (epa)
LOOKING FOR HEROES:
The U.S. State Department report on human trafficking includes a section titled "Heroes Acting To End Modern-Day Slavery." Among the 10 heroes singled out for mention was Uzbek citizen
NODIRA KARIMOVA
, head of the Tashkent office of the International Organization for Migration and founder of the NGO Istiqbolli Avlod. Here is how the State Department described Karimova's contribution to the struggle against trafficking:
HOTLINES, SHELTERS, ADVOCACY: Nodira Karimova's NGO Istiqbolli Avlod has assisted over 300 victims and is operating a shelter for returned trafficking victims. Before the shelter opened, Ms. Karimova and her associates took returned victims into their own homes or even rented apartments for them as they began the process of readjustment. In addition, she has worked to expand the number of trafficking hotlines to 10, receiving over 13,000 calls in the last year. Karimova developed a strong working relationship with the Uzbek consul in the United Arab Emirates that has facilitated the repatriation of many Uzbek women. Ms. Karimova also helped organize training for the Uzbek consular officials stationed overseas in January 2005, which spread awareness and made clear to the consular officials that trafficking is a serious problem that demands serious action. She was instrumental in the decision to open additional shelters, one for sexually exploited victims and another for labor trafficking victims, which will open in 2006.
MEET THE NEWSMAKER: To read an interview with Karimova, click here.
RELATED ARTICLES
Kazakhstan: A New Destination For Trafficked Women
Sex Traffickers Prey On Eastern Europeans
Slavery Survives, Despite Universal Abolition
Activists Discuss Human Rights In Central Asia

SUBSCRIBE
For a regular review of civil-society developments throughout RFE/RL's broadcast region, subscribe to "RFE/RL (Un)Civil Societies."