PRAGUE, March 3, 2006 (RFE/RL) -- Films from dozens of countries are being shown at the festival, and many of them deal with the problems women face in the "post-Soviet space." Two films are about the plight of women in Kyrgyzstan and Tajikistan whose husbands take a second wife.
No One Talks About It
Director Georgi Dzalaev originally set out to make a film about Tajik migrant laborers in Russia but in the course of making the film, became interested in the plight of those left behind, most of whom are women. He called his film "New Penelope," which refers to the wife of the ancient Greek hero Odysseus who waited years for the return of her husband while he was away on his "Odyssey."
"Polygamy is becoming a typical and widespread occurrence and society is already accepting this as normal… it is not considered a problem." Director Nailya Rakhmadieva
"New Penelope" focuses on several women who have been left behind by their husbands, and their many children. The film notes that many men do not inform their "first wife" about the "second wife" until the second marriage is either already arranged or has been performed. Dzalaev points out that while polygamy is illegal in Tajikistan -- as it is in other Central Asian states -- it is still prevalent, in part due to the dire economic situation in the country.
"Now, in such a situation, many instances of polygamy have appeared, especially after the economic situation changed after the collapse of the Soviet Union and the role of Islam reemerged from where it had been hidden during that period," he said.
While Islam permits a man to have four wives, Dzalaev adds, it's not a requirement. Even in cases where there is a second, third, or fourth wife, he says, the husband should first get the consent of his first wife or preceding wives before entering into a new union.


And Dzalaev said although nearly everyone is aware of the problems created by polygamy, there is no debate about it. "No one is analyzing whether this is the correct thing to do or not," he said.
But as the film illustrates, often men do not return from their work abroad. In such a case an abandoned woman may agree to become another man's second wife simply to feed herself and her children. As the film shows, sometimes the man leaves children from his first marriage behind with the second wife when he goes in search of work abroad. Some men seem to simply tire of their first marriage and seek a new -- usually younger -- bride.
There is not much first wives can do. In traditional Muslim societies, the husband has the rights to the children, especially the male children.
Once Admonished, Now Admired
Director Nailya Rakhmadieva's documentary film, "Elechek" focuses on the life of one woman, Sairash, who chose to leave her husband when he took a second wife. Rakhmadieva said she chose the topic because it was becoming so common.
"Polygamy is becoming a typical and widespread occurrence and society is already accepting this as normal," she said, "and … it is not considered a problem. It is interesting that people become accustomed to [polygamy] and don't even try to fight against it. For that reason, the idea occurred to me because many people I know have fallen into this situation although they are completely modern people: civilized and educated people, but for some reason this has happened to them."
Rakhmadieva said the problem was common both in cities and the country and is not confined to just Kyrgyzstan and Tajikistan.
"We live in the city and see this problem in the city, but moreover, we see this problem not only in Kyrgyzstan but also in civilized, progressive Kazakhstan," she said.
Friends and neighbors of the main character, Sairash, at first had little sympathy for her. That has changed since that film was made, says Sairash herself.
"Those people who condemned me earlier and said 'Why are you doing this? You should just endure it, because this is a serious step you are thinking of taking!' they now are supporting me and are taking my side on this issue."
To say that Sairash and the women in Tajikistan are fighting an uphill battle would be an understatement. The patriarchal societies of Central Asia are generally unconcerned with the plight of women, even after more than seven decades as part of the Soviet Union where, in theory, everyone was equal. But films like "New Penelope" and "Elechek" cast new light on this problem. Other women now seek out Sairash for advice, or at least sympathy -- two things that have traditionally been very hard for women involved in polygamous marriages in Central Asia to find.


Influential Women

Mas'uda Jalal is a physician and member of the Afghan government who finished sixth in her unprecedented bid for the Afghan presidency. ...(more)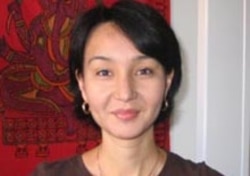 Galima Bukharbaeva risked her life covering the bloody crackdown on protesters in Andijon, Uzbekistan. ...(more)
Saltanat Rakhymbekova heads the Business and Industry Department in Kazakhstan's Central Karaganda province. ...(more)
Gozel Kulzhanova started her own landscaping and plant decorating business and a related magazine in Kazakhstan....(more)

Four-Part Series:
Women & Power In Central Asia (Part 1): The Struggle For Equal Rights
Women & Power In Central Asia (Part 2): Women Increase Presence In Kazakhstan's Business Sector
Women & Power In Central Asia (Part 3): Afghan Women Rise To Top After Taliban Repression
Women & Power in Central Asia (Part 4): Roundtable On The Tajik, Afghan, and Iranian Experiences