Thousands Protest In Bosnia Against UN Court Ruling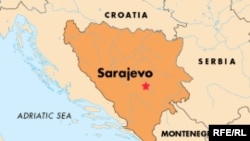 (RFE/RL) February 28. 2007 -- Thousands of people, most of them Bosnian Muslims, have protested against a ruling by the United Nations' top court clearing Serbia of genocide in Bosnia-Herzegovina.
War victims and veterans organized the two-hour rally in Sarajevo on February 27.
On February 26 the International Court of Justice ruled that Serbia was not directly responsible for genocide in the killing of nearly 8,000 Muslims by Bosnian Serbs in Srebrenica in 1995.
But it said Serbia had broken international law by failing to prevent and punish the mass killing.
(AFP, Reuters)