Iran Threatens To Pursue Rebels Inside Iraq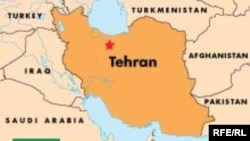 (RFE/RL) February 28, 2007 -- An Iranian military leader has warned that it will "chase" Kurdish rebels and other militants in Iraq if Baghdad fails to expel them from border zones.
Yayha Rahim Safavi, the head of the Islamic Revolution Guards Corps, is quoted as accusing the United States and Israel of supporting terrorists groups in Iran.
Safavi was speaking at a service for 14 Iranian servicemen killed in a helicopter crash during an operation against rebels near the Turkish border last week.
In a separate development, two Iranian police officers were killed and four were kidnapped on February 27 in an ambush by suspected militants in Iran's southeastern Sistan va Baluchestan Province.
IRNA news agency quotes the local police chief as saying the "rebels" fled toward neighboring Pakistan.
(Mehr, AFP)