U.S. Assistant Secretary of State Christopher Hill and North Korean Deputy Foreign Minister Kim Kye Gwan are due to meet on March 5-6 for their first follow-up meeting since a February 13 agreement reached in Beijing after days of six-nation talks.
Under that agreement, Pyongyang is required to shut down its main nuclear reactor and eventually dismantle its nuclear program in return for fuel aid.
The White House has described the deal as an "important first step" toward Pyongyang's denuclearization.
At the State Department, however, spokesman Sean McCormack played down expectations for next week's talks. "A big part of the meeting is just going to be organizational issues -- how is this working group going to meet, what are the modalities of it.," he said. "Don't expect anybody to come out the front door on March 6 waving a piece of paper with breakthrough agreements, that's just not the kind of meeting that this is going to be."
South Korea, the United States, China, Russia, and Japan have held nearly four years of negotiations with North Korea aimed at persuading it to end its nuclear-weapons program.
(AFP, AP, Reuters)
The Proliferation Threat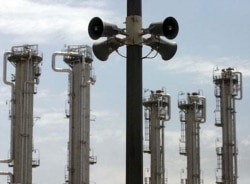 The Arak heavy-water plant in central Iran (Fars)


BENDING THE RULES. Henry Sokolski, executive director of the Nonproliferation Policy Education Center, told an RFE/RL-Radio Free Asia briefing on January 9 that the West is hamstrung in dealing with Iran and North Korea because of the way it has interpreted the international nonproliferation regime to benefit friendly countries like India and Japan.
LISTEN
Listen to the entire briefing (about 90 minutes):

Real Audio
Windows Media
RELATED ARTICLES
Iran, North Korea Present Proliferation Challenges
Tehran Watches As North Korea Tests Global Resolve
Rogue Nuclear Programs Threaten New Arms Race
Why Shouldn't Pyongyang Join Nuclear Club?