The officers went missing after their convoy was ambushed on March 1. They were later found dead in Ba'qubah, north of Baghdad.
A coalition of insurgent groups linked to Al-Qaeda posted an Internet message saying the police were killed to avenge the alleged rape of a Baghdad Sunni woman by Shi'ite police.
Iraqi officials said they have killed three "terrorists" and arrested nine more in Ba'qubah, but it was not clear whether the operation was directly linked to the policemen's murders.
Separately, six Sunni men who had received death threats for attempting to reconcile with local Shi'a, were killed today in Al-Yussifiyah, 20 kilometers south of Baghdad.
(AFP, AP)
On The Verge Of Civil War
On The Verge Of Civil War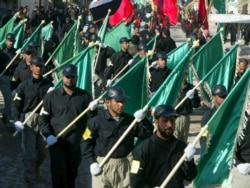 The Imam Al-Mahdi Army on parade (epa)
HAS THE CONFLICT IN IRAQ BECOME A CIVIL WAR? Many observers have concluded that the tit-for-tat sectarian violence that emerged after the February 2006 bombing of a mosque in Samarra has become a full-blown civil war.... (more)


RELATED ARTICLES
U.S. Media Starts Using 'Civil War' Label
Iraqi Prime Minister Under Fire From All Sides
U.S. Expert Discusses Prospects For Stabilization
President Says Iraq Needs Iran's Help
Saudi Arabia To Seal Off Border With Security Fence

THE COMPLETE PICTURE:
Click on the image to view RFE/RL's complete coverage of events in Iraq and that country's ongoing transition.