The official IRNA news agency says the new 50,000 rial note -- worth more than twice the value of any other note in circulation -- will have a picture of the nuclear insignia of electrons in orbit around an atom.
The note will also bear a quotation from the Prophet Muhammad beside the atomic orbit, saying "If the science exists in this constellation, men from Persia will reach it."
Jalal Jalilian, the head of printing at Iran's Central Bank, says the new banknotes have "nothing to do with depreciation of the national currency."
The new notes are to be issued at a time when Iran is facing international pressure and sanctions over its nuclear energy program.
(AFP)
The Proliferation Threat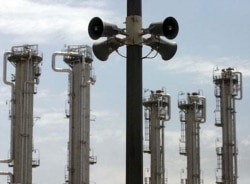 The Arak heavy-water plant in central Iran (Fars)


BENDING THE RULES. Henry Sokolski, executive director of the Nonproliferation Policy Education Center, told an RFE/RL-Radio Free Asia briefing on January 9 that the West is hamstrung in dealing with Iran and North Korea because of the way it has interpreted the international nonproliferation regime to benefit friendly countries like India and Japan.
LISTEN
Listen to the entire briefing (about 90 minutes):

Real Audio
Windows Media
RELATED ARTICLES
Iran, North Korea Present Proliferation Challenges
Tehran Watches As North Korea Tests Global Resolve
Rogue Nuclear Programs Threaten New Arms Race
Why Shouldn't Pyongyang Join Nuclear Club?