Iran, Saudi Arabia Disagree On Topic Of Discussion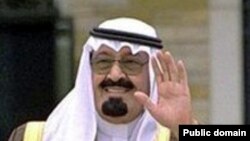 King Abdullah met with Ahmadinejad over the weekend (file photo) (Public domain) March 4, 2007 -- Controversy has broken out over what Iranian President Mahmud Ahmadinejad did or did not say during his visit to Saudi Arabia.
The official Saudi SPA news agency reports that during their March 3 talks King Abdullah and the Iranian leader backed a 2002 Arab plan for normalizing ties with Israel.

But Ahmadinejad's office today vehemently denied there was any discussion of the initiative.

Ahmadinejad and the king did agree to counter sectarian strife, which they described as the biggest threat to Muslims. Sunni Saudi Arabia and Shi'ite Iran are among the most influential nations of their respective branches of Islam.

The two leaders also stressed the importance of Palestinian unity and the need to implement the security plan of the Iraqi government and safeguard Iraq's independence and unity.
(combined from agency reports)