The attacks happened on a main street in Al-Hillah, some 95 kilometers south of Baghdad. More than 150 people were wounded in the blasts.
At least 28 pilgrims had already been killed today in various shootings and bomb attacks in Iraq before the Al-Hillah bombers struck.
Thousands of pilgrims are heading by bus and on foot from across Iraq to attend the Arbain religious ceremony on March 9 in the shrine city of Karbala, 100 kilometers south of Baghdad, despite threats from Sunni militants.
Also today, the U.S. military said nine U.S. troops were killed in two separate bomb explosions on March 5.
(AP, AFP, Reuters)
Sectarian Iraq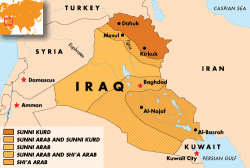 Click to enlarge the image.
SUNNI, SHI'A: Iraq is riven along sectarian lines, faults that frequently produce violent clashes and are a constant source of tension. Sectarian concerns drive much of Iraqi politics and are the main threat to the country's fragile security environment.


THE COMPLETE PICTURE: Click on the image to view RFE/RL's complete coverage of events in Iraq and that country's ongoing transition.